Interview: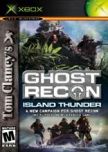 Tom Clancy is taking on Cuba this summer via the Xbox and, to declassify some more information regarding Ubi Soft's latest mission, we turn to Michael Jeffress, Brand Manager for the Ghost Recon games. Along with the help of Tom Clancy special PR informant, Tiffany Spencer, Michael gives us the scoop on one of this summers most intensely anticipated titles.
Gaming Target (GT):
Michael; we have questions, and we know you have the answers. Tell us something about the upcoming title.
Michael Jeffress (MJ):
Ghost Recon has been the #1 Xbox Live [title] since it's release and players can expect more great content with Island Thunder. In the tradition of the Clancy franchise, this game is expected to blow out the capabilities of the Xbox, blowing away gamers in the process!
GT:
Wow, that's a pretty impressive claim! I have no doubt this will make a lot of people happy. What was Ubi Soft's motivation behind releasing this title for Xbox Live?
MJ:
Game fans just can't get enough of Ghost Recon--in fact, it's the most popularly played game on Xbox LIVE. So, we thought we would give them more great Ghost action to enjoy!
GT:
Does GRIT use the same game engine as the original GRX?
MJ:
Yes.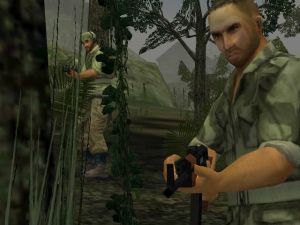 GT:
Are there any significant interface changes from GRX?
MJ:
No, the interface is based on GRX. We did add a few interface tweaks in LIVE play, like a "Force Launch" button and a talking player indicator.
GT:
Will GRIT support system link and if so, for how many players?
MJ:
Yes, 16 players.
GT:
Can it play multiplayer on a single console? If so, how many?
MJ:
Yes, 2 player split-screen.
GT:
Can it handle multiple players on a single console and Xbox Live?
MJ:
No, when playing LIVE or LINK play it is one player per Xbox.
GT:
We've read that there are a large number of game modes. What game modes will be available?
MJ:
Solo (All Maps): Last Man Standing, Hamburger Hill, Sharpshooter, Cat and Mouse. Team (All Maps): Siege, Last Man Standing, Domination, Search and Rescue, Hamburger Hill. Co-op (All SP Maps): Mission, Defend, Firefight, and Recon.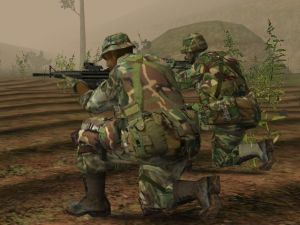 GT:
One of the most exciting aspects of GRIT is the downloadable content. Can you provide any insight into what can be expected for downloadables?
MJ:
It's a little early for us to provide specific details, but gamers can expect new maps and missions available for download via Xbox LIVE. One of the most compelling reasons to buy this title will be because it supports downloadable content--a feature which we hope to exploit by offering frequent high quality content for download. The original Ghost Recon on Xbox didn't support downloadable content, unfortunately, because by the time Microsoft decided on a protocol for supporting downloads GRX was pretty much finished.
GT:
Does the game support and HDTV modes and if so, what ones?
MJ:
Sorry, it doesn't support HDTV.
GT:
Do you have a slightly more expanded story line than the one offered in the press release?
MJ:
We do but we won't reveal it. We think gamers enjoy discovering how the plot will develop as they play.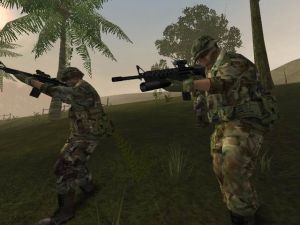 GT:
Any upcoming promotions we might mention to help generate additional interest in the title?
MJ:
We will begin to run tournaments shortly after launch. Fans should check out the ghostrecon.com for more information.
GT:
Any additional comments or thoughts you'd like to leave us with?
MJ:
1. Downloadable content. Players will have the ability to download new maps and missions.
2. Xbox LIVE! stats: players can now access leaderboards in-game to see how they rank against their friends, top players, and the players surrounding them in the boards. Additionally, the players can visit the ghostrecon.com website for additional stats info.
3. In-game scoreboard so players can see how they are doing compared to the AI and people they are playing with.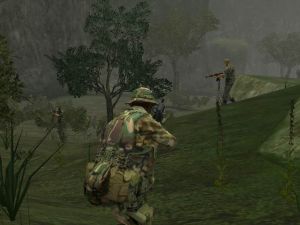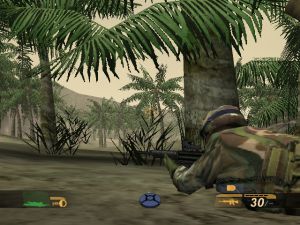 Like everyone else, we are certainly itching for a copy of Island Thunder, but the game doesn't release until next week. In the meantime, check out our
preview of the game
. A special thanks to Michael Jeffress and Tiffany Spencer for taking the time to speak with us. We look forward to seeing everyone on Live!