News: A new downhill freeriding game is available on Xbox One and you can check it out for free with a trial that is now available.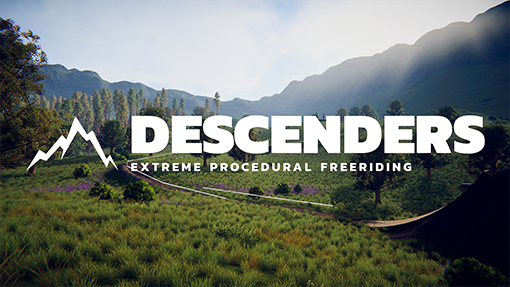 Developed by RageSquid, and published by No More Robots, Descenders is now available on Xbox One via the Game Preview program. Descenders is an extreme downhill freeriding game with visuals enhanced for the Xbox One X, along with Mixer Interactivity integration. Descenders is downhill mountain biking for the modern era, with fast-paced action that is easy to pick up but difficult to master.

Descenders has a deep physics system and tight controls that allow players to string together trick combos, as you make your way down the mountain and attempt to reach the bottom with as few scratches as possible. Procedurally generated worlds mean that no two runs are ever the same, with special challenge nodes to discover and nerve-racking Boss Jumps that truly sort the casuals from the pros. But linger for too long and the sun will begin to set, forcing you to ride through the night to get the job done.

As you ride, whip and scrub to victory, you'll unlock Crew Members who will provide special upgrades and mutators, allowing you to hone your run to your exact specifications. Descenders probably has more content than you will ever see with "over 3.5 billion levels" to explore, along with dozens of mutators to bag, numerous hidden nodes and a plethora of unlockable kits, helmets, bikes and accessories.

The Mixer interaction for Descenders will feature live streaming interactive element, allowing viewers to help or hinder the streamer as they play. The visuals will also look more crisp and a bit more detailed if you are playing it on the Xbox One X.

The PC version of Descenders on Steam has also been updated today with massive changes and content, to bring it in line with the Xbox release. Dubbed "The Rogue-Bike Update", this new download adds many more hours of gameplay to Descenders, with new maps to explore, and secrets to discover.

Check out the launch trailer below and tell us what you think. There is also a free trial that is available if you want to try before you buy. Will you be picking up Descenders?