News: Check out the ultimate "Dodgebrawl" experience where you can select from eight ancient warriors from different eras.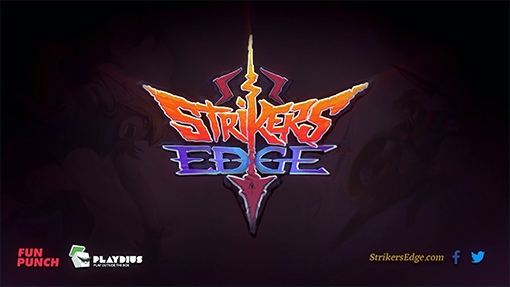 Fun Patch Games and indie publisher Playdius have revealed that Strikers Edge is available on PlayStation 4 and PC. Strikers Edge delivers a new twist to classic games of dodgeball with remarkable medieval weapons and mighty ancient warriors. Delivering ultimate "Dodgebrawl" battle experience, Strikers Edge allows players to choose from a roster of eight ancient warriors from different eras and civilizations, each with unique abilities, play styles and strategies. Dodge, take cover, block, aim and scorch the earth with devastating moves! Fight online or locally across four different arenas and achieve the ultimate victory in 2v2 matches with a friend or become the best striker in 1v1 battles. When medieval fantasy meets dodgeball, only the top striker will be victorious.

"We are eager to release Strikers Edge to the players that have been following our game from the beginning," said Filipe Caseirito, Co-founder and Programmer at Fun Punch Games. "In addition to the cross-platform play between PC and PlayStation 4 players, we are excited to implement Twitch Mode for PC players to stream their rise to the top!"

Designed not just for players, but also with livestream audiences in mind, Strikers Edge includes a special Twitch Mode, exclusive for PC. Viewers in chat can vote on a variety of match modifiers, making for memorable and messy battles with options such as Slippery Floors or Huge Weapons. Viewers can also participate during matches by taking on the role of in-game audience members. Cheer and boo Strikers and see your actions affect matches in progress.

To celebrate the launch, Playdius and Fun Punch Games are offering Steam players a 17% launch-day discount on Strikers Edge for one week at $12.44 USD. Keeping with the spirit of friendly battle, the Steam sale figure was determined by the number of community wins against the developers during the recent Strikers Edge multiplayer beta tournament.

PlayStation Plus members in North America can also look forward to a 10% launch-day sale for Strikers Edge for one week, and can pick up the game via PSN for $13.49. And, PlayStation Plus members in Europe can also look forward to a weeklong launch-day discount of 15% and can download Strikers Edge via PSN for € 12.75.

Will you pick up Strikers Edge? Take a look at the trailer below and tell us what you think.