News: If you want a limited edition Skyrim vinyl soundtrack then you might want to put in your pre-order right now.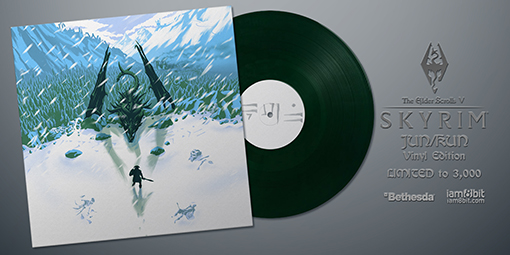 Bethesda and iam8bit have revealed that JUN/KUN limited edition Skyrim Vinyl Soundtracks and limited edition Skyrim Screenprints by Aled Lewis will release during the second quarter of 2018. If you are interested you can pre-order it at www.iam8bit.com.

Skyrim Vinyl Soundtrack - $40


A 2-color black haze, 180-gram vinyl with the development team's favorite tracks, separated into "Light" and "Dark" sides.


An excruciatingly customized album art package from famed artist & Skyrim superfan Aled Lewis.


A digital soundtrack


Skyrim Screenprint by Aled Lewis - $100


An epic 6-color hand pulled screenprint, standing at a strikingly large 24x36 inches, chock-full of hidden touches, some so microscopic that you'll need to examine in-person to catch them all.


Does this sound like something you would be interested in? Take a look at the pictures below and tell us what you think.