News: A motorcycle open world brawler has now been released where you will have to climb the ranks of an outlaw gang.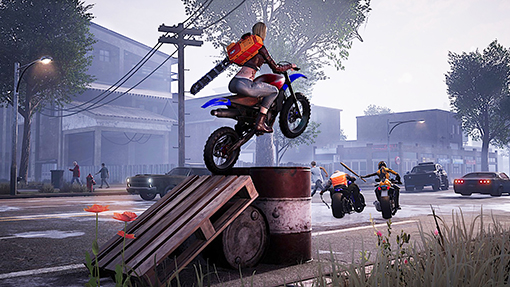 Maximum Games has launched Road Rage today, an open world motorcycle action game. Road Rage is an over-the-top motorcycle racer and brawler in which players climb the ranks of an outlaw gang in a city run by crime. Beat down rival gang members with an arsenal of hard-hitting weapons while pushing your ride to the limit in high-speed competitions, leaving the authorities in your dust across over 90 story and side missions. Take your winnings and enhance your bike's performance with a variety of customizable upgrades to cruise in style through this far-reaching and dangerous open world.

You'll explore a variety of neighborhoods in the city of Ashen as you seek out ways to battle and hustle your way to victory. It is available today as a boxed product at major retailers and digitally on the PlayStation 4, Xbox One and Windows PC for $29.99. Check out the trailer below and tell us what you think.

Will you be picking up Road Rage?