News: A new trailer has been released to give you a quick look at The Witch and the Hundred Knight 2 from NIS America.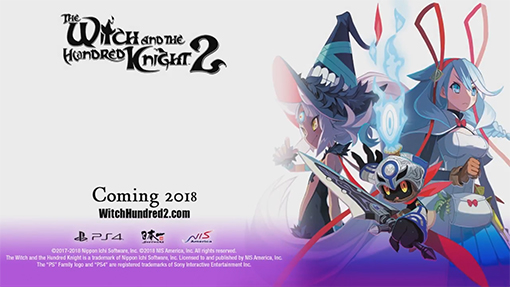 NIS America has released a new trailer for one of their upcoming titles, The Witch and the Hundred Knight 2. This new trailer introduces the story setting, Kevala, with picturesque landscapes and witches. Follow the Hundred Knight as you defend and serve both Amalie, an agent of an anti-witch organization; and Amalie's younger sister, Milm, now awakened as the witch Chelka.

In case you haven't been following the development of The Witch and the Hundred Knight 2, the premise is below:

"In a tragic stroke of fate, Amalie's dear sister, Milm, is stricken with the witch disease. Destined to awaken as a witch, she is deemed dangerous by her fellow villagers, and they are both exiled from their town. Searching for a cure, they encounter an organization called Weisse Ritter, which specializes in treating the witch disease. Unfortunately, they are unable to prevent Milm's awakening as a witch, and she awakens as Chelka.

During her escape, Chelka enchants a Hundred Knight doll that Milm had in her posession, making it a Manania: a magical familiar that can understand language and give simple responses. From here, the Hundred Knight accompanies Amalie, Milm and Chelka in the pursuit of their goals. The path before them will lead them to many mysteries and secrets that lay waiting in Kevala.

What will they find as the story unfolds?

Will Amalie and the Hundred Knight be able to find a way to bring Milm back to normal?"

Check out the new trailer below and tell us what you think. The Witch and the Hundred Knight 2 will arrive on PS4 and PC in 2018. Will you be picking it up?