News: A new trading card game is now available on PS4 that should keep you busy for quite a while.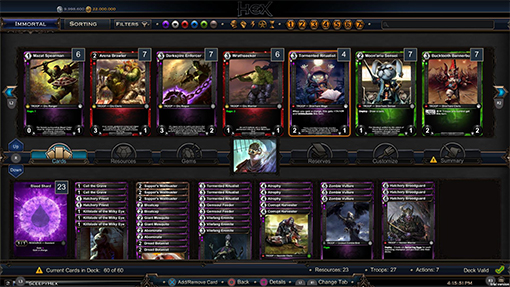 HEX: Card Clash is now available on PS4 in North America and will be available soon in Europe. This update brings their acclaimed PC game, HEX: Shards of Fate, to a wider console audience—now with numerous UI upgrades, smooth controller play, an enhanced tutorial system, and more! Most importantly, this version includes full cross-play compatibility.

HEX: Card Clash combines the challenging and strategic planning of a trading card game (TCG) with the rich depth of a role-playing game (RPG). Thanks to the fully digital nature of HEX: Card Clash, they provide mechanics that are simply impossible for traditional TCGs. Here are just a few of the features for HEX: Card Clash:


A full-fledged digital marketplace - Sell and buy cards with other players to ensure you always have the deck-tech you need. This update includes a Quick Buy and Quick Post feature, so you can spend less time selling and even more time on the battlefield.


Deep customization - Choose a champion to aid your deck's strategy and bring powerful abilities into battle. Build unique strategies by adding gems to cards to completely change their stats or keywords at the press of a button.


Competitive Ladder and Cash events - Climb your way up the ladder and earn gold, packs, and exclusive alternate arts. Qualify for one of our many cash events like the Cosmic Crown Showdown or the HEX Clash and win real money alongside fame, glory, and bragging rights.


On-demand tournaments - Join one of the many exciting gauntlet modes—like Draft, Sealed, or Evolving Sealed—whenever you like. These gauntlets let you play on your own time with prizes on the line. Play a game, set it down, and then return when you are ready for more.


Immersive Art - The art team delivers jaw-dropping art with each set. Every card is a work of art—literally! Not to mention, there is customizable sleeves, battle boards, and animated alternate arts, so you can be sure that each game of HEX will be a visual feast.


Take a look at the trailer below and tell us what you think. Will you be picking up HEX: Card Clash for the PS4?