News: Some more SNES Classic Edition units are arriving at Gamestop this week and maybe other stores as well.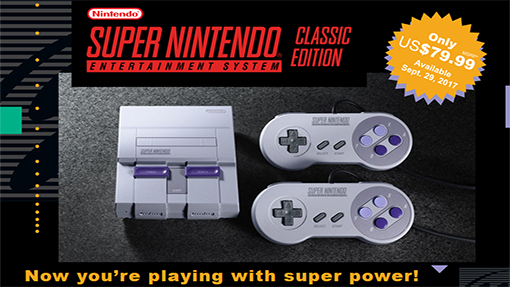 The SNES Classic is going to be back in stock at Gamestop this week. This is according to a Facebook post made by the official Gamestop account. You will want to call your local store and see what they have coming and then plan accordingly because the new stock will most likely sell out in a matter of minutes, maybe even seconds depending how much stock each store receives.

The SNES Classic launched on September 29 and even though stores had a good amount of units (at least compared to the NES Classic the previous year) they still sold out quickly. The SNES Classic comes with 21 games on the system along with two Super Nintendo controllers. One of those games is the never before released Starfox 2. The other games on the system include the following:


Super Mario World


Super Mario Kart


The Legend of Zelda: A Link to the Past


F-Zero


Super Metroid


Street Fighter II Turbo


Super Punch Out


Super Castlevania IV


Donkey Kong Country


Mega Man X


Kirby Super Star - 8 Games in One


Final Fantasy III


Kirby's Dream Course


Star Fox


Super Mario World 2: Yoshi's Island


Super Mario RPG: Legend of the Seven Stars


Contra III: The Alien Wars


Secret of Mana


Earthbound


Super Ghouls 'N Ghosts


With new units arriving at Gamestop you might also want to check other stores in your area that sell video games. If you are having trouble finding a SNES Classic unit you might also want to visit the site brickseek.com. That site should tell you how many units each of your local stores has of the SNES Classic, once they get back in stock. Additionally, if you follow Wario64 on Twitter he always posts when new stock is available. Good luck to everyone on the hunt for an SNES Classic. We hope everyone that wants one can find one this holiday season.