News: Hand of Fate is approximately one month away and will be available on Xbox One, PS4 and PC, with 4K HD being available on Xbox One X on day one.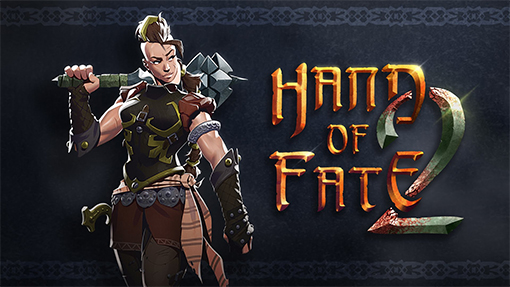 Hand of Fate 2 is coming next month according to Defiant Development. Hand of Fate 2 once again challenges players to overcome trials built from collectible cards, handed out by the Dealer. Each card will test players with hack-and-slash combat, dangerous locales to explore, tense minigames, or Dungeons & Dragons-style decisions. A new map-based overworld allows players to discover and unlock those challenges in entirely new ways.

The sequel also introduces a variety of new features, including weapon types and associated fighting styles, cards that can provide a powerful boost, different victory conditions for combat and the dealer's card game, as well as all-new bosses, enemy types, and storylines.

The Dealer, Hand of Fate's magical antagonist, returns seeking vengeance following his defeat in the first title. Under the destructive influence of Hand of Fate's original hero, a xenophobic tyrant has crowned himself emperor, banned all magic and exiled the non-human races. Hand of Fate 2's new hero must master the Game of Life and Death to exact the Dealer's revenge and topple the oppressive empire.

"We're excited to finally lock in a release date for Hand of Fate 2," said Morgan Jaffit, Director, Defiant Development. "The team has been keeping our heads down working on the game, and now that we're nearly done, I can safely say this marks a new chapter in the level of quality we can achieve. I'm incredibly proud of this group and can't wait to show their work to the world."

At launch, Hand of Fate 2 will be available for $29.99 USD, €24.99, and $29.99 AUD in English, French, Italian, German, Spanish, Russian, Hungarian, Japanese, Korean, Ukrainian, Brazilian Portuguese, and Simplified Chinese. It will be on the Xbox One, PlayStation 4 and PC. With its launch on November 7 that means it is launching the same day as the Xbox One X and the development team has stated that Hand of Fate 2 will support 4K HD on the Xbox One X.

Take a look at the trailer below and tell us what you think. Will you be picking up Hand of Fate 2?