News: Square Enix is bringing back one of their classic titles and you will get a chance to play it if you are attending PAX West.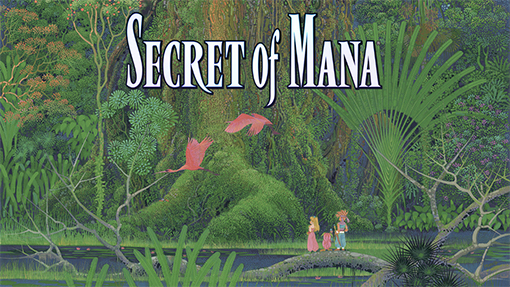 Secret of Mana is coming back. Square Enix has revealed that one of the most beloved RPGs is coming back in 2018 and it will be in 3D. Secret of Mana will adapt the story and top-down gameplay while having modern 3D graphics and controls. Square Enix claims that Secret of Mana has been built from the ground up for the PS4, PS Vita and PC but that it still retains the whimsy everyone knows and loves.

Some of the features this remake will have include:

Voiced Characters - You hear Randi speaking in the trailer and throughout the game you will hear Primm, Popoi and many other characters talk as well.

Newly Arranged Soundtrack - There will be a beautiful newly arranged soundtrack that pays tribute to the original score.

Local Multiplayer - You will be able to sit down with two of your friends so that you can go through the adventure together.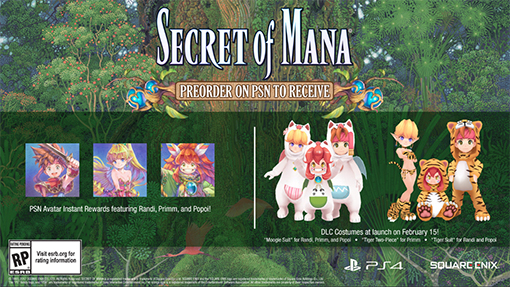 In addition to Secret of Mana coming to the PlayStation 4, PlayStation Vita and PC, if you pre-order the game on the PlayStation Network you will receive the following items:
Individual PSN Avatars for Randi, Primm and Popoi as an instant reward
DLC costumes at launch on February 15
"Moogle Suit" for Randi, Primm and Popoi
"Tiger Two-Piece" for Primm
"Tiger Suit" for Randi and Popoi
If you would like to pre-order Secret of Mana right now, click
here
. If the link gives you an error then it isn't available for pre-order yet but Sony said it should be available as of 1:30am Pacific time, so after that time it should work unless Sony changes where the pre-order page is located.
If you are attending Pax West in Seattle from September 1-4 you will be able to play Secret of Mana both at the Square Enix booth as well as at the PlayStation booth. Secret of Mana is slated to be released on February 15, 2018 on the PlayStation 4, PlayStation Vita and PC. I'm sure some of our readers are wondering but there has been no mention of a Switch version at this time. Take a look at the announcement trailer below and tell us what you think.
Will you be picking up Secret of Mana? Will you pre-order it on PSN to get those bonuses?