Reviews: For Honor features an exceptionally complex combat system that works for newcomers to the genre and veterans alike.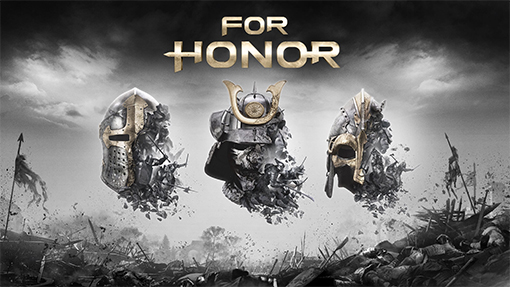 "The clever combatant imposes his will on the enemy, but does not allow the enemy's will to be imposed on him" - Sun Tzu
I get the feeling that during the development of For Honor there was frequent if not constant reference to The Art of War. The revelatory combat system is itself referred to as "The Art of Battle" system. The lessons and gameplay systems therein echo Sun Tzu's old text in that they may seem obvious on the surface, but dig a little deeper and you'll find a complexity that can be rewarding regardless of your level of familiarity.
I'll be completely straightforward here. I'm useless at fighting games. Full stop. Now, For Honor may not be a fighting game in the traditional sense but it does have an exceptionally complex combat system that will favor those that are most skilled with it's layers and nuance. In most cases that would seem intimidating but thanks to an excellent tutorial it's as approachable as it is unique. The game starts you off with the very basics of learning the different stances, blocks and attacks but provides such a well paced ramp of combining the things you've learned so far that I never felt overwhelmed as new combat options were introduced. While this is referring directly to the tutorial even the campaign itself does a great job of continually ramping up that challenge over the course of the 8 or so hours I spent with it on normal difficulty. There are 3 chapters each comprised of 6 stages that focus on one of the warring factions. It's a longer campaign than I expected initially and while the structure of each stage can get bogged down with 'follow this icon on your mini map to complete said task' it would continually set boss battles in my path that became increasingly demanding. Once the credits rolled I felt confident enough in my abilities to feint, parry or dodge my way out of unfavorable positions in the multiplayer. I feel like calling the campaign an extended tutorial is perhaps too reductive but it certainly serves as an effective skills gauntlet for you to familiarize yourself with each of the playable heroes and hone the timing of your various combat options.
The real meat and potatoes of For Honor is undoubtedly it's multiplayer. Duel & Brawl are 1 on 1 or 2 on 2 fights respectively. Best of 5 rounds wins. In some ways I think Duel is my favorite mode of all. Any equipment modifiers are turned off and it's all down to your hero against theirs. It pays dividends to know the kinds of skills and attacks each hero has in these fights because attack speeds and power all balance against each other in ways you'll have to account for. These battles feel intimate and squaring off against another human as they move for better position on the map or defending a barrage of attacks until you can create an opening for an attack of your own always feels tense and fun. Thanks to the game teaching me it's systems in a way that gave me a firm understanding of it's deliberate combat and ways I can counter I always felt like I was "in" the fight. Even when I'd inevitably lose some matches 3 rounds to none the margin of victory was such that if I had just kept from making one mistake it would have fallen in my favor instead. This makes losing feel less frustrating and instead hardened my conviction to play one more match and do that much better next time.
I can't quite say the same of the 4v4 player Deathmatch Elimination mode partly because when matching with random players it winds up being frustrating as often as not when a player quickly falls and gives the opposing team a distinct numbers advantage. Playing as a team is a must here as battles can quickly give way to whoever manages the first kill. This brings up the fact that fighting two other human player is understandably difficult and there's even an achievement/trophy for killing off just one of your opponents in that situation to recognize the fact. It feels futile to even try in those situations most of the time but it's somewhat balanced by the fact that if you can survive long enough for a teammate to get to you and turn the tide then the resulting victory is that much sweeter. It certainly has it's place here but you'll be best served playing with friends you can count on.
Dominion feels like the party piece of the multiplayer package. These 4v4 battles with AI grunts in a fight to control the battlefield often feel the most balanced and offer the greatest variety of awesome moments. There's three territories to control and doing so will net you points. The goal is to get to 1000 points and finish off the players on the other team to seal victory. Now that last part is pretty key here and serves to make matches of Dominion some of the most thrilling multiplayer I've played in some time. Getting to the point goal isn't quite enough. Doing so will enter the other team into a state of sudden death where they can no longer respawn but their teammates can still revive them. With 100 point swings happening for capturing and losing objective points I've been a part of several matches where the point margin was pretty wide for a given period of the match only to have the tide turn and the losers rally to eek out a comeback victory. Having been on both sides of a situation like that I can say it can be equally just as emotional either way. Losing a match you thought was wrapped up feels as bad as coming back from certain defeat feels awesome. It's always worth it to keep fighting and knowing that these victories are possible kept me engaged in every battle I fought. Just like in the duel mode I described earlier it always feels like the margin for victory is just a razors edge away and that gives constant tension to every moment of every match.
While there's plenty of awesome things to be said about For Honor my primary complaints lie with the peer to peer matchmaking. The lack of a dedicated server base has meant that I've had more than a couple matches where everything grinds to a halt or I get booted to the main menu because of somebody else dropping in or out. Thankfully the time between entering a match and actually getting into games is pretty quick but the instability caused by other players in these situations is worth noting. It's hardly a new problem or one that is unique to For Honor and I suspect the problem would be worse if the game modes themselves put players in positions where they felt like they couldn't win when the situation looks bleak.
For Honor is a refreshing take on both competitive multiplayer and melee combat systems. While these things have perhaps been done better in some ways separately by other games I can't think of any that have created anything that feels quite like what is offered in For Honor. The Art of Battle system provides an accessible on ramp for new players and a deep enough set of abilities, combos and strategies that has a skill ceiling I can only guess at. High level play aside it's easy enough to learn from the foundation set by the campaign and take that into the multiplayer and feel competitive in virtually any match I played. While the somewhat humdrum mission structure of the story mode holds it back from being truly spectacular, there are enough moments of grand scale and battles in gorgeous environments to distract me from bare bones story and weak villain setting up the inter-faction war between history's greatest warriors. For Honor is no doubt a game that is going to stay in my rotation for months to come as I fight for the glory of the one obvious best faction.