Reviews: Just how much can a story mode add to a property as big as Minecraft?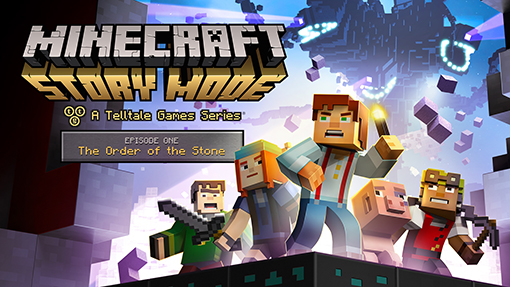 Telltale is well known for putting players in tense positions of choice and consequences. They've established the modern formula for choose your adventure style games and have had the benefit of using some of the most well known entertainment licenses in the process. Without a doubt Minecraft falls into a category of successful (and lucrative) properties that few other IP's enjoy. Pairing some of the best storytellers in the industry with a name as big as Minecraft seems like it could be a slam dunk on paper right? The results however are a bit more mixed than that.
While I don't know exactly what the demographic of the average Minecraft player is, I can say with some certainty that Minecraft: Story Mode is aimed squarely at kids. The dialogue and choices present here simply don't have the depth or complexity of other Telltale games. The result is a set of characters that are a little too archetypical and flat to be all that interesting. Telltale does a pretty good job of setting up who your main characters are and what the conflict is by the end of the episode and it has a certain "Saturday morning cartoon" vibe to it that was at least charming if not terribly deep. Your player character who goes by the gender neutral name of Jesse will be chosen from a selection of six ready made male or female avatars in the first menu of the game. From there you'll be introduced to your best friends Axel, Olivia and loyal pig companion Reuben as they discuss how they're going to win this year's Building competition. The prize for which will be a chance to meet the famous hero Gabriel. He and the other three legendary heroes are introduced in the beginning as their history is touched on a couple times throughout the first episode. There are hints at digging deeper into who those characters actually are in the future but for this venture you'll only directly learn more about Gabriel who plays a key role in setting up the journey on which Jesse and friends will embark.
The gameplay itself doesn't stray far from the formula Telltale is known for. You'll tap through quick time events in dodging and attack scenarios and make dialogue choices that will have an impact either large or small on the story. There are a couple instances where you'll engage with crafting tables but it's implemented more as a way to inject the flavor of Minecraft than to provide anything in terms of freedom of creativity. In these instances you'll have a limited set of materials to make 2 or 3 different objects according to your given recipes in order to serve the task and narrative at hand. This isn't a bad thing necessarily but don't expect the open ended nature of Minecraft to shake things up in any major ways.
There's a distinct lack of depth in the dialogue but the cast of voice actors present do an admirable job of injecting some flavor into their characters. This comes as no surprise with veterans such as Patton Oswalt, Paul Reubens and Ashley Johnson behind the microphones. They might not have a whole lot to say but the delivery is inoffensive and so it doesn't compound the problem. Hopefully in subsequent episodes they'll have a little more to work with in terms of script. Like the voice acting the visuals do a fine job of capturing character without actually having a whole lot to work with. The visual style of Minecraft is perfectly preserved in all it's pixel block glory and manages to do the job of putting you in the world you expect to see and giving each character a unique look. The engine too seems to have made enough of an upgrade that the choppy stuttering I've experienced in previous Telltale outings is less severe. I still saw a bit of hesitation here and there and a flickering sky or background but overall the experience is pretty smooth.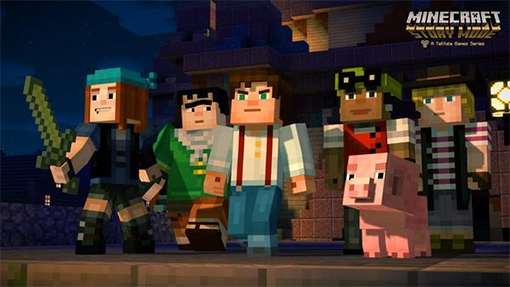 Minecraft Story Mode Episode 1 plays it safe for better or worse. If you've played other Telltale games you should pretty much know what to expect in terms of how the actual gameplay unfolds but the experience seems smoother overall as there was noticeably fewer hitching and momentary freezes than I've noticed in previous games. Unfortunately the story and choices presented here fail to capture a sense of why I should be invested in the main characters. If you're not already a fan of Minecraft there's probably not a whole lot here to draw you in, but fans of the game will appreciate a few little nods and in jokes that are sprinkled in.