Reviews: For Mario and 30th anniversary Nintendo is giving you the keys to games that made him famous.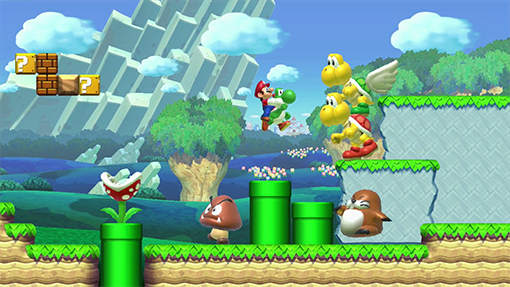 At some point or another most of us have played a Mario game. For many it may even be the genesis of their love for gaming. There's no denying the impact the Super Mario series has had on the industry over the years and now that power to create the sort of joy that's shared by so many is in your hands.
There's two primary modes at the beginning of Mario Maker. By selecting "Make" you will immediately bring up the editing toolset over whatever stage is being displayed in the background. Hitting "Play" will give you two options. 10 Mario Challenge is a great place to start as it will give you a set of fairly straightforward levels that play with the traditional Mario formula in fun ways in order to give you some ideas. The other option is Course World which is the hub for all of the shared content that other Makers have on offer. From here you can either take the 100 Mario Challenge, or bring up a list of trending courses and creators in order to find, download and play levels. As of the time of this review there were multiple automatic running levels that were simply a joy to watch play out. The creativity of Mario Makers' top designers is already shining through. The breadth and quality of the levels is as wide and varied as the number of Makers, the star ranking system seems to do a good job of bringing the best stuff to the top though. There's plenty of levels that are either way too easy, or just not fun, but I feel like it's well balanced by the stuff that is either super creative or well designed. If you want to test your Mario skills there's plenty of creators that have designed stuff to do just that.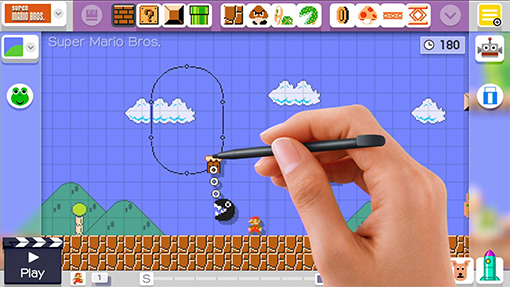 Once you decide you're ready to start making a course you can either start with a level you've downloaded or start from scratch. You won't have every tool available to you right away but you'll unlock more stuff as you use the editor. Every element that you've unlocked is readily available either at the top of the screen or with a single drop down button. You can rearrange each row as you see fit in order to find and use things more quickly according to what elements you're using. If you don't like the look of what you're making tap one of the buttons in the top left to either change the theme or game style. It switches on the fly and can give you some inspiration to make some tweaks to make your level look or play better. Not everything carries over exactly however. If you've designed a course around wall jumps in the New Super Mario set for example you'll have to retool a few things to make it work in one of the older games. Enemies all translate to any game though so it's fun to see something like wiggler get a version in the first Super Mario Bros that's never existed until now. Everything about this toolset fits together in a way that just makes sense. Want to super-size an enemy? Simply drag and drop a mushroom on it. Never once did I have to stop to figure out how to do something. Of all the editors and toolsets I've played around with this is easily the most intuitive and fun.
Visually the game is fantastic. While the New Super Mario Wii U hasn't changed, all of the old games' styles have been given a nice upgrade to display in full HD and without the flicker along the edges or when there's too many enemies on screen that you'll see in the ports of the original games. Super Mario, Mario World and Mario 3 have never looked so clean. There is a set number of level themes that each have their own version depending on what game you're editing in. I found it fun to see what my water level might look like in each game and found myself constantly switching between the styles in order to find what i thought looked the best. Even though all the course elements stayed the same the visual identity can change drastically with the push of button. Unfortunately the same can't be said for the background music which is baked into each theme. It makes sense but it probably would have been fun to put the water theme music in a castle stage just to mess with somebody's head. That's not to say there isn't any audio customization though. On the left side of the gamepad is a little frog that will help you drag and drop little sound effects into the environment. If you want you can make a single turtle scream "ouch!" when you stomp on his head. You can even record a sound yourself to be placed anywhere an effect can normally be placed. These tweaks can be used to hilarious effect, though you're limited on actually uploading custom sounds.
There's no multiplayer in the traditional sense here but you can have a partner play along with a separate controller if you want to have somebody else play test your creations on the fly. This direct feedback can be just as fun as it is helpful for making small tweaks to account for stuff you didn't think of. It would be nice if you could watch a playthrough of the people who have downloaded your course but the game will give little pop ups of all the places players died while trying to complete it. It's definitely helpful and even entertaining if you designed a specific thing to surprise the player. The miiverse integration is also cool as players can leave a comment anywhere in the level to let you know what they liked or got frustrated with.
Super Mario Maker is without a doubt the most fun I've ever had with an editing toolset. The game handles the task of making the creation process fun and intuitive with aplomb while also providing a deep enough experience to create very intricate courses. The Makers are the lifeblood of this game and the Star system ensures that the very best stuff rises to the top without burying the other "up and coming" stages and Makers. No other game I've played on Wii U has better demonstrated the full potential of the gamepad and given me as much reason to keep coming back. With the exception of only a few missing object types (such as desert stages) there's virtually no limit on the kind of courses you can expect to see from the world's best Makers. This is a game you can reasonably expect to see something new every time you play it and if you don't...just make it yourself.