Reviews: Leos Fortune is a wonderful example of how to port a mobile game to consoles in a 2.5 D style that really pops on your TV screen.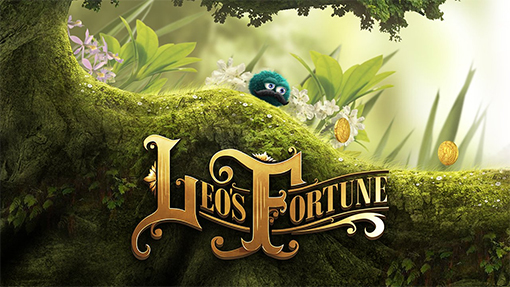 The opening to Leo's Fortune finds our fuzzy protagonist lamenting the loss of his beloved fortune. With a short note to his wife promising to be home for supper he's off to catch the culprit that made off with his gold. Once you take control the first stage will walk you through the most basic versions of platform and puzzle challenges you'll face throughout the adventure. In short you'll jump, float and ground pound your way through 20 stages filled with physics based puzzles that often involve moving pieces of the environment around to open up doors and avoid rolling, sliding or swinging traps designed to slow you down and kill you. Most of the game's stages aren't very difficult if you're simply taking your time to just go through and collect every coin in the stage. This will earn you just one of three stars available with the other two being locked behind completing a stage without dying and by passing a par time. If you're a completionist and want to unlock the bonus stage available in each Act then these add a nice layer of challenge and replayabiltiy to every level. Especially some of the final stages that will test your precision with Leo's limited move set. Pulling off a perfect run feels really good after learning to anticipate what's coming to keep your momentum up.
You'll immediately recognize Leo's Fortune as the mobile game it started as. Originally released on the iPhone and Android you won't confuse it as something that was built from the ground up for consoles. That's not to say it isn't a nice looking game however because it absolutely is. The environments are sharp and colorful in a 2.5 D style that really pops on your TV screen. You'll be picking up your lost gold through sets of levels tied together in each act by a single theme. From the beautifully green forest you start in to the white wispy mountain tops you won't get tired of taking in the wonderfully detailed assortment of environments. Each environment is coupled with thematically relevant music that's mixed with the eastern European undertones that Leo's thick accent suggests. I'm left feeling very impressed with the overall composition of the soundtrack and it's ability to offer the same aural variety yet thematic consistency that it's visuals deliver.
While there's not much story to be had outside of "go collect your gold and find out who took it" there is a specific message it seems the developer wanted to end with. It's effective enough and provides a nice wrap up to Leo's adventure. It's a shame some of the puzzles themselves weren't a bit more challenging and while there was a steady ramp of difficulty it wasn't until the very last stages that the game felt like it really found a nice groove of interesting challenges. The only real challenge comes from some of the platforming elements which at times can demand the utmost precision in your timing of jumps to avoid traps. Once you finish the game you can unlock a hardcore mode that tasks you with finishing every level with a single life. One wrong move and it'll record your total progress and time then send you back to the very beginning. Now, Leo's Fortune isn't a long game by any means but I can see this adding a lot of tension to areas of the game for players looking for that perfect run. Not to mention the achievement that goes with it.
Leo's Fortune is a wonderful example of how to port a mobile game to consoles. It's detailed environments look great on your big screen and it's music is truly a treat to listen to through either your headset or surround system. While the puzzles aren't that difficult the flawless execution of each stage will give those looking to collect each star enough to chew on for a bit longer. I can definitely see myself booting this up from time to time to chase down a few more stars or testing my skills and patience with hardcore mode.