Reviews: Steamworld Dig is a fun game where you see how far down into the Earth you can dig while mining gems and solving puzzles.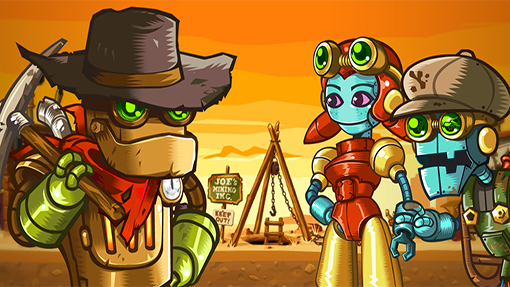 Steamworld Dig: A Fistful of Dirt is the Xbox One release of Swedish developer Image and Form's action platformer. You're put in the role of Rusty the Robot who wanders into Tumbleton, a town of exactly three after inheriting its mine from his Uncle Joe. You're immediately set to find out what happened to Rusty's uncle and get the mine producing again.
Your objective revolves around digging deeper and deeper into the Earth and mining the gems you find along the way. Once you've dug up all you can carry you take it back to the surface to exchange for gold. Everything you collect will allow you to buy upgraded gear in order to more easily get deeper into the mine. Is hacking the earth at your current depth taking too long? Buy that new pickaxe you've been saving up for. As you progress you'll find different types of rock that will require a drill or other upgraded equipment in order to progress. High level equipment will require special orbs as well as gold that you'll often find hidden away in the randomly generated map and in caves that you'll uncover the deeper you go.
Each of the game's main caves hold a special upgrade hidden away by Uncle Joe that give you a number of different abilities that change how you can navigate the depths of the mine. Upgrades such as the running boots and steam jump will let you get to previously inaccessible areas and are integral to solving the puzzle centric hidden caves where you'll find valuable loot. I got a certain Metroidvania vibe from going back to a couple caves that I couldn't previously figure out until I got a certain piece of equipment later on. The result is an extremely satisfying gameplay loop that kept me wanting more until the very end. The drive to continue going deeper and discover something new became addicting and compulsive.
Steamworld Dig is a nice game to look at. It's layered 2D art style works really well in the context of its gameplay. The environments are surprisingly diverse in a game that is all about you digging deeper into the ground. There is three distinct areas that each have their own visual identity, enemies to defeat and puzzles to solve. This extends to the characters on the surface that, while essentially serving as gold and equipment vendors each have a unique personality to them that is conveyed primarily through their visual design. There's no voice acting for any of the characters as they just dole out robot noises over the text for you to read. Most of the time there's nothing of any great value to be gained from what the folks of Tumbleton have to say but it was nice to see them each have a bit of a personality to them. There were also a couple of nods to other games or movies that I noticed that I won't spoil here but chuckled to myself when i saw them.
The biggest downer of the game was that the sound design just didn't seem up to par with the rest of the package. There was nothing memorable about the music and most of what you'll be listening to will be some robot rumblings from Tumbletons citizens and the sound of you chop chop chopping away at the next square of dirt. The ending sequence was interesting if not particularly difficult but I found it satisfying all the same. There's no alternate difficulty settings or new game+ once you've finished but you will be able to continue from your last save before the final sequence if you want to continue collecting gems and upgrades. There's a few achievements that will require a good knowledge of the game if you're a completionist including one that asks you to complete the game in just 2 and half hours. My play through took a little over six but I took a fair amount of time greedily digging out every gem I could get my hands on.
Steamworld Dig is a short and sweet adventure about uncovering gems and upgrades. It all feeds into a satisfying gameplay loop of collecting as many valuables as you can carry so that you can buy equipment to go deeper and find more valuable gems. The puzzles and sense of discovery changed things up before anything got stale and kept me hooked until the end. There's not much reason to go back and keep playing unless you're a completionist but the somewhat random appearance of caves will at least change things a little bit on your second play through. If you've got a spare afternoon there are worse ways to fill it than with A Fistful of Dirt.