Reviews: Hand of Fate's quests have a Dungeons and Dragons feel to them with the combat being a mixture of Fable and Assassin's Creed.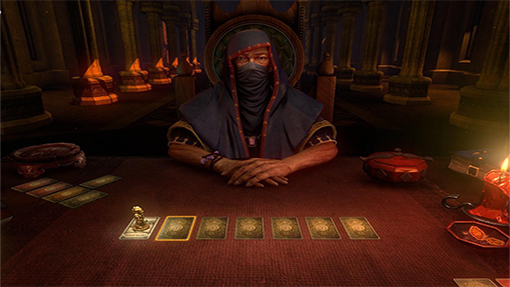 Unpredictable is the best word to describe Hand of Fate. Every journey into the dungeons within the game are different. You have one life to complete a quest and if you succumb to death, be prepared to start that quest all over again. The intriguing aspect to dying in Hand of Fate is the fact that when you die, the same quests will have encounters placed differently on the map. Hand of Fate utilizes a rogue-like aspect and because of this, the game requires players to constantly be prepared. You are NEVER safe and that is one of the best parts of Hand of Fate.
Navigating through dungeons is definitely not an easy task. We have to manage three resources throughout our adventure. Health, gold and food are the keys to survival. The player moves one space at a time. Each space consumes a piece of food. When food is depleted, health starts to deteriorate with each space traveled. We can use gold to buy more food, weapons, armor or special moves to be used in combat. It seems very complex at first, but it's fairly easy to pick up. Becoming an expert at this game is a completely different story.
Hand of Fate has plenty of cards to collect. We also have two decks. One deck is for equipment while the other is for encounters. The encounter cards will consist of the spaces that we land on during our quests, while the equipment cards will be cards that we acquire by completing certain encounters or by using gold in stores to purchase. The mysterious dealer also sneaks some of his cards into the deck to try and stop us from defeating the boss in each quest. Many of his attempts will be successful, but what the dealer doesn't realize is that each time he defeats us, we'll just come back with a little more aggression and knowledge.
I died too many times to count during the final quests of the game. It was frustrating, but it was never discouraging. Many encounters have tokens attached to them. By completing an encounter the correct way, the player is given the token associated with that encounter. These tokens have cards that can be added to our deck. Some of the cards are additional encounters (with more tokens available to be unlocked) while others are weapons and armor. Collecting tokens is a must because it not only gives us the chance to potentially become stronger, but we can slightly manipulate the game board to come across items very beneficial to us.
The combat in Hand of Fate feels like a mixture of Fable and Assassin's Creed. We fight bandits, lizardmen, rats and other creatures. As we get stronger, so do our enemies. Sometimes these battles can become overwhelming because the amount of enemies we fight are determined by the dealer's cards. The combat is pretty fluid, but throughout my time with Hand of Fate, I was faced with slowdowns that took away from the experience. Hand of Fate's biggest problem was definitely lag filled combat moments and that's a shame because I hardly found faults with the game.
Hand of Fate is such a unique game. The quests have a Dungeons and Dragons feel to them and that's cool because each quest can be completed in 20-30 minutes each. Non-combat encounters may require some serious thought because they can drastically alter a quest. There are some luck based encounters as well. Encounters like these made for some stressful moments, but they were engaging.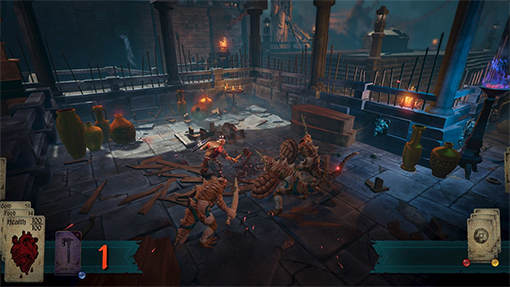 Players can eventually unlock an "Endless Mode" that is a highlight in Hand of Fate. The mode is pretty self-explanatory. We keep playing until death. Every encounter nets us some points and we try to get the high score. When a player reaches the next level, more trap cards are scattered throughout that particular level making victory that much harder. It's an intense mode that had me coming back for more.
Hand of Fate is one of the most unique games I've ever played. The story is okay, but the mixture of gameplay, puzzles and random encounters make the game constantly intriguing. I wish the overall story mode added a little more depth, but the endless mode will definitely keep players coming back for more. The dealer is a crafty man, but with patience, skillful combat techniques and deep thought, we'll be able to come out with the winning hand.