Cyber Monday deal News: PlayStation 4 bundles don't get better than Walmart's console and two game combo, especially when GTA 5 and The Last of Us come free.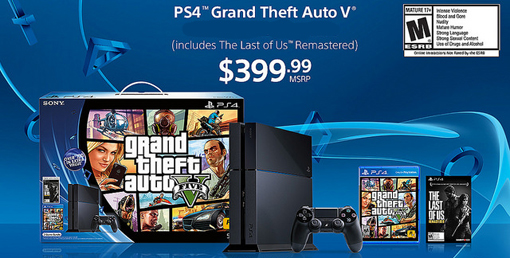 The best Cyber Monday deal at Walmart is a PS4 bundle that has two of the best games available for the Sony console, Grand Theft Auto 5 and The Last of Us.

Walmart's PS4 bundle with GTA 5 + The Last of Us for $399 means that you're getting two games for free. The system, with a 500GB hard drive, by itself costs the very same amount at the retailer and other locations.



Considering these are two of our favorites, you can go wrong. Of course, if you have younger gamers in the family, start them off with something a little more toned-down.

Walmart's PS4 bundle with Lego Batman 3 + LittleBigPlanet 3 is $399

, also an unbeatable price and value. LBP3 just came out, and it's hard not to enjoy that creative, almost educational game.

Not as much of a deal,

Walmart's PS4 bundle + your choice of a game for$449

is also available with a few more options. But, really, the games aren't the best compared to the expansive world of Grand Theft Auto 5.

Read more Cyber Monday updates throughout the day, as we monitor the best deals at Walmart and other locations before Christmas rolls around.