Cyber Monday News: Cyber Monday on Amazon gives us more than half off of the Lord of the Rings game for next-gen systems Xbox One and PS4.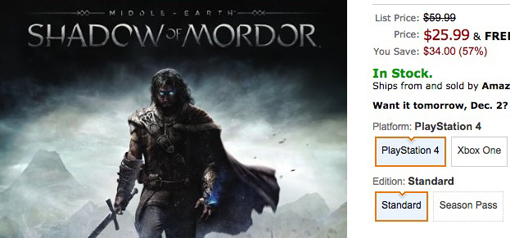 Middle Earth: Shadow of Mordor hasn't been on store shelves very long, but the PS4 and Xbox One versions of the game are already on sale for Cyber Monday through Amazon. Likewise, the PS3 and Xbox 360 editions have deep discounts.

Amazon's Middle Earth: Shadow of Mordor is $24.99 today thanks to the annual one-day sale. The Lord of the Rings title is now the No. 1 most popular video game the online retailer is selling as of press time. It's very popular.



Middle Earth: Shadow of Mordor for Xbox 360 and PS3 are $29.99

through Amazon for Cyber Monday. It's almost as cheap, but the next-gen versions are bound to be better in addition to saving you $5.

GameStop has it for $29.99

for all four systems, almost matching the lowest Middle Earth: Shadow of Mordor price. It sure beats other retailers that have yet to discount the game.

Walmart's Shadow of Mordor is $39.99

, while

Best Buy is boldly charging $59.99

, the full MSRP for all four console versions. Talk about sour Cyber Monday deals.

The best price via Amazon should remain in effect until the end of today, or while supplies last.

Stay tuned to

Gaming Target

for more Cyber Monday deals throughout the day, as we do non-stop updating.