Kindle Fire HD Cyber Monday Deal: It's a little early for Cyber Monday deals, but the new Amazon tablet is cheaper than ever today with Kindle Fire HDX and Fire HD discounts.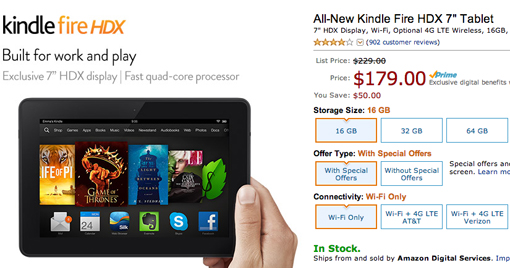 Kindle Fire HDX and the Kindle Fire HD have early Cyber Monday deals on Amazon right now for prices as low as $119.

The more-desirable 7-inch Kindle Fire HDX tablet is $179 when Amazon normally prices it for $229. The $50 discount is good while supplies last, which typically isn't a whole lot of time given the fact that it's Cyber Monday or at least close to it in the US.



The Kindle Fire HDX 7-inch specs include an HD resolution screen at 1920x1200 and 323 pixels per inch. It has a 2.2GHz quad-core processor and 2GB of RAM to make it faster than its 7-inch tablet rivals out there.

This new Kindle Fire tablet also comes with the touted Mayday button that Amazon has been advertising on commercials. It's free 24/7 tech support for anyone who has trouble accessing the Kindle Fire HDX's features.
Kindle Fire HD also has a Cyber Monday deal
Even cheaper is last year's Kindle Fire HD. This
16GB tablet is $119 on Amazon
with a little more than four hours left in the sale. By comparison, it has an HD display with a 1280x800 resolution and 216 pixels per inch.
There's also an adequate 1.5GHz dual-core processor. Unlike the Kindle Fire HDX which comes with WiFi and 4G LTE options, there's only a WiFi version of the Kindle Fire.
Either one you choose, these early discounts are a good sign for the Cyber Monday ahead at Amazon.
Check out the funny Amazon
Kindle Fire HDX 8.9 vs iPad Air
commercial released by the online retailer today.