Black Friday Samsung TVs News: Amazon, Walmart, and Best Buy roll out new prices for the Samsung 4K TV with a price that is right for the 55-inch television set.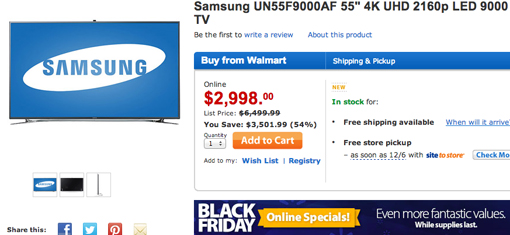 Black Friday sales have made owning a 4K HDTV a little more reasonable, as retailers like Amazon, Walmart and Best Buy have reduced the price of Samsung's ultra high-definition television set.

The Samsung UN55F9000 55-Inch 4K Ultra HD 120Hz 3D Smart LED TV is $2,997.99 at Amazon, falling below the all-important $3,000 mark. You're still going to have to be on Santa's nice list to get it this year, but it's not truly absurd to own a television like this now.



Like the Amazon deal,

Best Buy has it for $2,999.98

, while

Walmart falls in between

the two with a $2998 Black Friday deal for the 55-inch 4K TV. The original listing price of this Samsung UHD set is said to be $6,499, though we haven't seen top retailers with this price.

The good news is that this 55-inch monster is being offered with free shipping from all retailers, an offer that should continue even after Black Friday ends.

Amazon and Best Buy are also offering the next size up in the form of the

Samsung UN65F9000 aka the 65-inch version

of this bad boy. Of course, the size and specs up comes with a higher price. It's retailing for $4,497.99 for that extra ten inches.

Whether or not you consider this Samsung 4K TV affordable, the sets are coming down in price and this is the lowest price we've seen for this particular size and brand name so far. The South Korean electronics giant is clearly attempting to rule the 4K HDTV market like it did with LCD and LED HDTV sets in the past couple of years.

There are cheaper Chinese manufactured 4K Ultra HD TVs that best this price like the

50-inch TCL LE50UHDE5691 4K TV at $999.999

, something that is probably making Samsung executives worry every day.

Find more Black Friday and Cyber Monday deals from Gaming Target on the right hand column as the weekend progresses and your online shopping cart fills up.