PlayStation 4 News: Go to Taco Bell and get a PS4 branded $5 Buck Box or Big Box and you could potentially win a free PS4 system and get it before everyone else.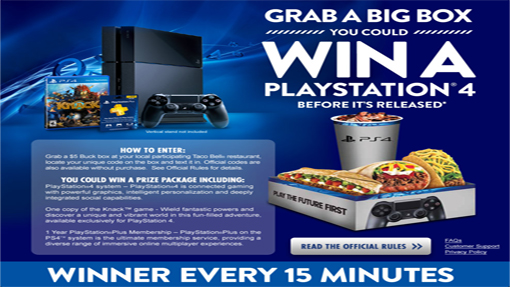 Sony has announced a partnership with Taco Bell for a six week "Play the Future First" promotion, beginning September 26, that will give away PS4 units to winning participants. The "Play the Future First" promotion runs in the U.S. from Sept. 26 to Nov. 10, and gives fans the chance to win the PS4 system before it hits stores nationwide on Nov. 15. During the promotion, each PS4 branded Taco Bell $5 Buck Box or Big Box – which includes a Cheesy Gordita Crunch or Crunchwrap Supreme, a Burrito Supreme, a Crunchy Taco and a medium fountain drink – will provide a unique code for consumers to text in for a chance to win a PlayStation 4 prize pack. The prize pack features one PS4 system, one copy of the exclusive PS4 game, Knack, and a one-year membership to PlayStation Plus.

"Our fans enjoy gaming, and gamers eat Taco Bell, so teaming up with PlayStation for the second consecutive year to give consumers first access to the next generation system before it hits retail was an exciting decision for us," said Chris Brandt, chief marketing officer, Taco Bell Corp. "We strive to give our customers a little more, each and every day, in everything we do. Through the 'Play the Future First' promotion, we are delivering on our promise to Live Más – and now play más – with a gaming experience like no other."

SCEA and Taco Bell partnered in 2012 to give fans the chance to win a PlayStation Vita before it launched in North America on Feb. 22, 2012. With the upcoming launch of the PS4 system, the "Play the Future First" promotion kicks off a multi-year partnership between SCEA and Taco Bell that will continue to bring gaming experiences and fast food to fans across the U.S.

"Following the positive response from the gaming community for the PS Vita campaign last year, we are thrilled to have the opportunity to partner with Taco Bell to tap into the excitement as we prepare to launch PS4 on November 15," said Guy Longworth, senior vice president, brand marketing at SCEA. "PlayStation and Taco Bell both have some of the most loyal fans in the world, and this promotion rewards them by providing an extraordinary opportunity to get their hands on a PS4 before it hits stores."

The PS4 system will launch in North America on Nov. 15, and will be available at major retailers for $399. The PS4 system delivers rich and immersive gameplay experiences that feature powerful graphics and speed, deeply integrated social capabilities, and second-screen features.

Consumers can also request a code without purchase by mail or online. Prize packs will be shipped on or around Tuesday, Nov. 12. PS4 branded $5 Buck Boxes or Big Boxes will be available at participating locations while supplies last. This promotion is only good for legal residents of the United States or D.C. (excluding Hawaii) and you must be 18 or older to win.

Will you go to Taco Bell more often over the course of the next six weeks to try and win a free PlayStation 4? Tell us what you think below.