Amazon Kindle Fire HD News: For the next 24 hours, the Kindle Fire HD 8.9 32GB and 16GB tablets that are used are part of the Deal of the Day along with new accessories.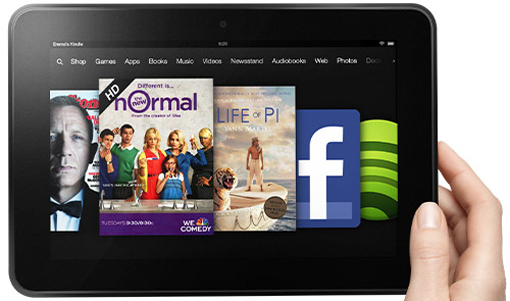 The Kindle Fire HD 8.9 has been discounted for the next 24 hours, with a price drop that could save you as much as $70 off of what Amazon normally charges for the tablet. They are used, but the retailer touts them as "Certified Refurbished" with "a full one-year limited warranty, just like a brand-new Kindle Fire HD 8.9."

Such deals are usually reserved for Black Friday and Cyber Monday. Not the case for today's Deal of the Day. Both the 32GB and 16GB models of the larger Kindle Fire HD tablet received the price drop. The 32GB version provides the most savings with $70 off the $269.00 list price, making it $199 in the end. The 16GB Kindle Fire HD 8.9 has been discounted by $60 off the original $239.00 price; it's now the bargain price of $$179.

In addition to the full warranty as per usual, the Kindle Fire HD 8.9 has all of the usual specs of the Amazon tablet. It has a 1920x1200 HD display and dual stereo speakers on the outside and a 1.5Ghz dual-core processor and an Imagination PowerVR 3D graphics core on the inside.



Kindle Fire HD 8.9 specs

Other Kindle Fire HD specs include a front-facing HD camera and dual-band, dual-antenna Wi-Fi provides 40 percent faster downloads and streaming vs the new iPad. It benefits from native access to the Amazon store's 23 million movies, TV shows, songs, magazine books, audio books and apps. Another benefit to being an Amazon tablet owner is that it comes with the Kindle Owners' Lending Library, which iPad and normal Android tablets do not have access to.

There's no caveat, as Amazon claims that these refurbished Kindle Fire HD 8.9 tablets include the "Special Offers & Sponsored Screensavers." The retailer said that they "don't interrupt use of the device," which means the "Without Specials Offers" version isn't available from the get-go.