PS3 Bundle News: This PS3 Bundle is on sale with Uncharted 3 for a cool $250 compared to every other day when it is $299.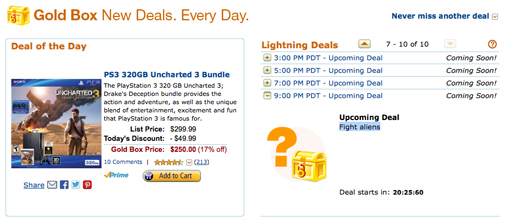 Updated with newly revealed Gold Box prices

Amazon is selling the PS3 320GB console bundle featuring Uncharted 3 for $250 as its Deal of the Day today.

This PlayStation 3 package with one of Sony's best games usually costs $299.99. However, the retailer is offering the entire bundle for $50 off its normal price.

As with all Amazon Deals of the Day, this will run throughout the next 24 hours or until the store sells out.

Considering this particular PS3 bundle is more appealing than most, gamers may snap this one up sooner than the deal's expected end time.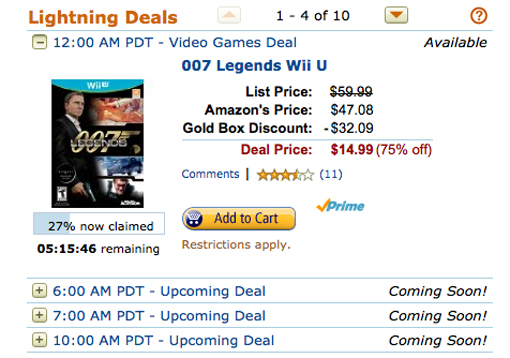 Amazon Gold Box Savings, too

In addition to the PS3 Uncharted 3 bundle, Amazon is also offering deals throughout the day on 10 different video games and accessories.

All of the Gold Box deals are revealed every few hours, starting with 007 Legends for Nintendo Wii U.

Here is the list of Amazon Gold Box deals as they become available. Post your best guesses for the hints of the yet-to-be-named discounted items:
3:00 AM: 007 Legends (Wii U) $14.99


6:00 AM Black Ops II Hardened Edition (PS3) $59.99


10:00 AM LEGO Batman 2: DC Super Heroes (Wii) $9.99


01:00 PM Dead Island (PS3, Xbox 360) $24.99-$47.99


03:00 PM MLB 13: The Show (PS3, PS Vita) $18.99-$31.99


05:00 PM Hakuoki: Warriors of the Shinsengumi (PSP) $14.99


06:00 PM Ni No Kuni: Wrath of the White Witch (PS3) $29.99


08:00 PM Turtle Beach Ear Force PX22 (Universal) $59.99


10:00 PM Bring your summer vacation gaming to a new level!


12:00 AM Fight aliens
It seems as if Tomb Raider isn't a part of this discount collection, folks. Nathan Drake and Uncharted fans, however, have the male version of Lara Croft to look forward to along with a new PS3 bundle at a reduced price.