Air Conflict: Vietnam News: Experience the battles in the skies over Vietnam later this year on XBox 360, PS3 and PC.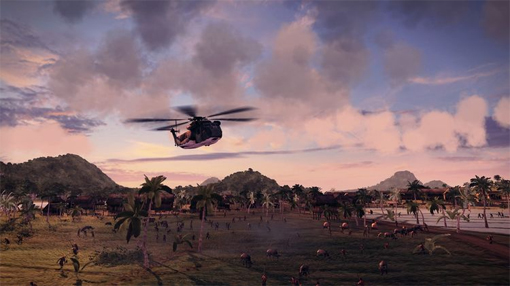 Air Conflicts: Vietnam is heading to North America thanks to a deal recently signed by Kalypso Media USA. Air Conflicts: Vietnam takes players to the skies about Southeast Asia during the most heated moments of the Vietnam War, and challenges them to fly both fixed-wing combat planes and helicopters of the era. The game offers an extensive single-player campaign in which players will protect allied troops, launch assaults on enemy positions, engage in daring dogfights and much more. In online multiplayer, gamers can take to the skies in both American and Soviet-supplied North Vietnamese jets used during the conflict in eight player aerial battles.

"The Conflict in Vietnam remains a fascinating and rich period in history. The introduction of helicopters into mainstream support and combat roles changed the face of war and offers a great setting for interactive storytelling," said Mario Kroll, Vice President of Kalypso Media USA. "bitComposer has been an excellent publishing partner and we are delighted to share their take on the fierce battles in the skies over Vietnam with North American armchair pilots."

Air Conflicts: Vietnam is a arcade-styled air-combat game that immerses players in the harrowing skies over Vietnam. Take to the air in screaming fighter jets or grab the controls of devastating helicopter gunships as you shatter enemy encampments with explosive ordinance, decimate North Vietnamese ace fighter squadrons, escort bombers as they deliver their deadly payload, or rescue stranded soldiers and deliver support troops to the ever-changing front lines of the battlefield.

Some key features of the game include:


Live a thrilling wartime narrative - In a single-player campaign filled with heroic moments and the darker side of war, your performance in air combat and support missions drives the story from the initial escalation of tension, through key battles of the Vietnam War and, ultimately, the fall of Saigon.


Jump into the cockpit for instant action - Pilot and customize more than 20 planes and - for the first time in the Air Conflict series - helicopters, including the workhorse UH-1 Iroquois, fire-breathing AH-1 Cobra attack gunships, the devastating F4 Phantom and F104 Starfighter jets, plus fearsome enemy MIG fighter jets.


Lead your squadron to victory - Command up to four jets or helicopters, maximizing their unique abilities to complete challenging objectives, while earning experience, leveling up and improving your leadership and air combat skills.


Challenge your friends for air supremacy - Play up to eight online opponents in nail-biting, fast-paced capture-the-flag, deathmatch and team deathmatch air battles.


Get your groove on - As you test your pilot skills against AI or human opponents, treat your ears to a cool rock soundtrack in the style of vintage Vietnam-era tunes.


Air Conflicts: Vietnam will hit Xbox 360, PS3 and PC later this Fall. Will you be picking this one up?