Xbox One News: Pre-order your Xbox One console and certain games to get a special Day One limited edition with special bonuses.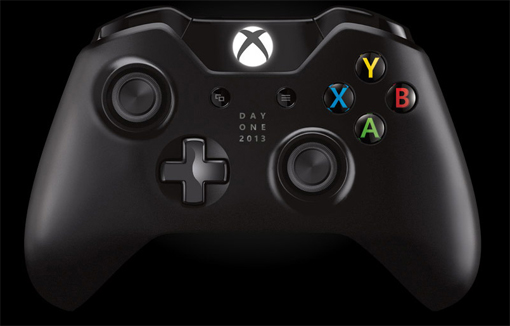 Microsoft revealed that the Xbox One will be available for $499 in November in 21 countries during their E3 press conference. They also revealed that they have come up with a way to thank early adopters. Xbox One pre-orders are quickly selling out everywhere but for those who got in early enough you will be receiving a day one edition Xbox One console.



What is a day one Xbox One console? Well you obviously get the console itself, the Kinect sensor, a Xbox One controller and an HDMI cable. What is special about the "Day One" units though is the following:

Xbox One commemorative controller that says "Day One 2013" on it.
You will get an exclusive "Day One" achievement but no one quite knows what that means as of yet.

In addition to those items being a part of the console that you will pick up from your favorite store there are also other "Day One" items. There will be a "Day One 2013" 12 month XBox Live membership that you can buy that will come with the day one bonus of Xbox One Killer Instinct: Round One digital game playable with exclusive Shadow Jago character.

Additionally, some of the launch titles will also have a "Day One" version. Titles such as Forza Motorsport 5, Ryse: Son of Rome, Dead Rising 3 and Kinect Sports Rivals will all have special content that will be exclusive to the "Day One" version, at least for a little while. Here is what you will get with each game:

Forza Motorsport 5 Day One Edition - Instant access to three cars tuned to the top of their class.
Ryse: Son of Rome Day One Edition - Exclusive multiplayer map and sword with bonus attributes.
Kinect Sports Rivals Day One Edition - Exclusive sporting equipment that separates your champion from the rest of the world.
Dead Rising 3 Day One Edition - Exclusive Frank West and Chuck Greene tribute packs with bonus attributes.

It remains to be seen whether these incentives will be available later as DLC that you can purchase but, for now, if you want those extra incentives for free you will have to be sure to pick up a "Day One" edition.

Xbox One Day One console pre-orders are quickly selling out everywhere so if you want to take advantage of the "Day One" exclusives then you need to place your pre-order right away. Do these incentives give you extra motivation to run out and pre-order the console or do you even care about these incentives? Tell us your thoughts below.