News: Check out what is under the hood for Sony's PS4, Dualshock 4 controller and PlayStation Camera.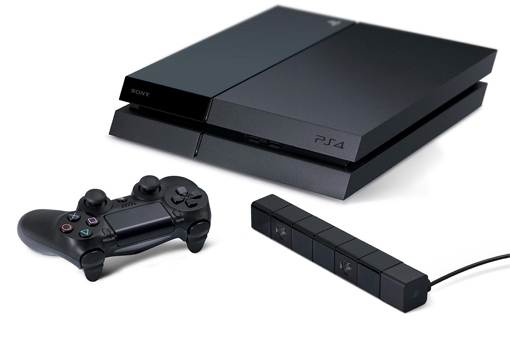 The PS4 hardware was revealed during Sony's press conference at E3, finally giving us a glimpse at Sony's new hardware. The internal design architecture of the PS4 system, from the optical drive and power supply unit to the cooling mechanism, has been developed to keep the the body as slim and light as possible to dramatically enhance the flexibility of the design.

The surface of the PS4 body is subdivided into four sections, as if four blocks are stacked together making one figure, with disc slot, buttons, power indicator and vent placed within the slim interspace created by the sections. The power indicator designed atop the body will glow in a PlayStation blue color when the power button is turned on. The foreside and backside of the body is slightly angled; it not only gives users easy access to the power button and disc slot when placed either horizontally or vertically but also helps conceal the connected cables. The black-themed color along with the matte and gloss finish adds a sophisticated look to the PS4 system as the next generation entertainment system and will fit perfectly wherever it is placed.

PS4 peripherals include the stand-alone wireless Dualshock 4 and PlayStation Camera which will be available at launch for US $59, Canada $59, €59 and £54, and US$ 59, Canada$ 59, €49 and £44 respectively. Both accessories will come in "Jet Black" color. For those who are interested the actual specs are below:

PlayStation 4


Product Name - PlayStation 4 Jet Black


Product Code - CUH-1000A series


Main Processor - Single chip custom processor; CPU: x86-64 AMD "Jaguar", 8 cores; GPU: 1.84 TFLOPS, AMD next-generation Radeon based graphics engine


Memory - GDDR5 8GB


Storage Size - 500GB hard disk drive


External dimensions - Approx. 275x53x305mm (width x height x length) (tenative, excludes largest projection)


Mass - Approx. 2.8 kg


BD/DVD Drive (read only) - BD x 6 CAV; DVD x 8 CAV


Input/Output - Super Speed USBx (USB 3.0) port x 2; AUX port x 1


Networking - Ethernet (10BASE-T, 100BASE-TX, 1000BASE-T) x 1; IEEE 802.11 b/g/n; Bluetooth 2.1 (EDR)


AV Output - HDMI out port, Digital Out (Optical) port


Included in box - PS4 system, Dualshock 4 controller, Mono headset, AC power cord, HDMI cable, USB cable


Dualshock 4 Controller


Product Name - Dualshock 4 wireless controller


Color - Jet Black


Product Code - CUH - ZCT1


External Dimensions - Approx. 162mm x 52mm x 98mm (width x height x depth) (tentative, excludes largest projection)


Weight - Approx. 210g (tentative)


Keys/Switches - PS Button, Share button, Options button, Directional buttons (Up/Down/Left/Right), Action buttons (Triangle, Circle, Cross, Square), R1/L1/R2/L2 button, Left stick/L3 button, Right stick/R3 button, Pad button


Touch Pad - 2 point touch pad, click mechanism, capacitive type


Motion Sensor - Six-axis motion sensing system (three-axis gyroscope, three-axis accelerometer)


Other features - Light Bar, Vibration, Built-in mono speaker
Ports - USB (Micro B), Extention Port, Stereo Headset jack


Wireless Communication - Bluetooth Ver. 2.1+EDR


Battery - Type - Built in Lithium-ion Rechargeable battery, Voltage - DC3.7V (tentative), Capacity - 1000mAh (tentative)


PlayStation Camera


Product Name - PlayStation Camera


Color - Jet Black


Product Code - CUH-ZEY1


External Dimension - Approx. 186mm x 27mm x 27mm (width x height x depth) (tentative)


Weight - Approx. 183g (tentative)


Video pixel - (Maximum) 1280 x 800 pixel x 2


Video frame rate - 1280 x 800 pixel @ 60fps; 640 x 400 pixel @ 120fps; 320 x 192 pixel @ 240fps


Video format - RAW, YUV (uncompressed)


Lens - Dual Lenses, F value/F2.0 fixed focus


Capture range - 30 cm~∞


Field of view - 85 degrees


Microphone - 4 Channel Microphone Array


Connection type - PS4 dedicated connector (AUX connector)


Cable length - Approx. 2m (tentative)


What do you think of these specs? Do you plan on picking up a PS4? Will you pick up a PlayStation Camera to go along with your new PS4?