CoD Ghost News: Amazon, Walmart, Target and Best Buy has pre-order bonuses up as soon as the CoD Ghost release date was announced this week for Xbox 360, PS3 and PC.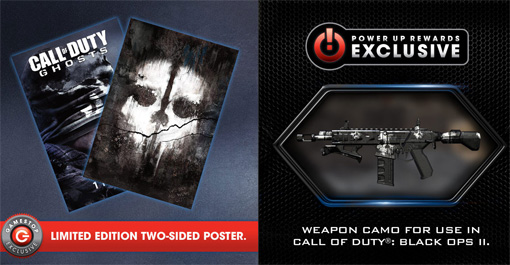 The Call of Duty Ghost release date announcement for Xbox 360, PS3 and PC sent Amazon and GameStop into action, taking pre-orders and revealing the first set of pre-order bonuses.

Pre-ordering CoD Ghost from Amazon will score gamers a exclusive digital wallpapers, which the online retailer said it will start emailing to pre-order customers on June 1, 2013.



Even better, the

CoD Ghost GameStop pre-order bonuses

include an exclusive limited edition two-sided poster, and GameStop PowerUp Rewards members get another bonus: A CoD Ghosts-themed weapon camo for use in Black Ops 2.

It should be noted that the second GameStop pre-order bonus is only available for the PS3 and Xbox 360.

All three versions of the game will cost $59.99. In addition to Amazon and GameStop,

Walmart

and Best Buy are also taking CoD Ghost pre-orders, but they have yet to reveal any bonuses, if any, that come with the highly anticipated Activision game.

That still, beats Target, however, which hasn't started taking CoD Ghost orders at all yet.

Check back for an update list of CoD Ghost bonuses, as more online retailers are added to the list.