CoD Ghosts News: November 5 is the confirmed CoD: Ghosts release date, with PS4, Xbox 720, Wii U versions of the FPS likely to come as well.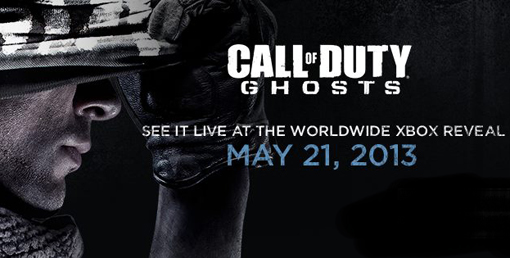 The official Call of Duty: Ghosts release date is November 5 for the Xbox 360, PS3 and PC, announced the video game's publisher, Activision.

CoD Ghosts, as the next entry in the incredibly popular Call of Duty franchise, will also launch for next-generation consoles; the soon-to-be-announced Xbox 720 from Microsoft and Sony's PS4.



Being developed by Infinity Ward, CoD Ghosts will deliver an all-new gameplay experience built on an entirely new story, setting and cast of characters. The game will be powered by a new, next-generation Call of Duty engine that Activision promises will redefine the series.

"Infinity Ward set the gold standard for first-person action for a generation, and they're going to do it again with Call of Duty: Ghosts," said Activision CEO Eric Hirshberg.

"Ghost delivers an all-new story, all-new characters, an all-new Call of Duty world, all powered by a next generation Call of Duty engine, which is a leap forward for the franchise. Infinity Ward is going all-in to create the next generation of Call of Duty worthy of the world's greatest fans."

"Everyone was expecting us to make Modern Warfare 4, which would have been the safe thing to do. But we're not resting on our laurels," said Infinity Ward executive producer Mark Rubin.

"We saw the console transition as the perfect opportunity to start a new chapter for Call of Duty. So we're building a new sub-brand, a new engine, and a lot of new ideas and experiences for our players. We can't wait to share them with our community."

Recently we reported that Microsoft will be holding their reveal for the new Xbox on May 21 on the Microsoft campus. According to Activision, you will also get to see an exclusive first look at Call of Duty: Ghosts at 10am PDT on May 21 by tuning into the "Xbox: the Next Generation Revealed" event on Xbox.com, Xbox Live or Spike TV.

"We are consistently thrilled with the overwhelming response received from critics and consumers alike to the Call of Duty series, which has firmly established its home on the Xbox 360 with the game's largest and most engaged community," said Don Mattrick, president of the interactive entertainment business at Microsoft.

"With Call of Duty: Ghosts, we have no doubt that our longtime partners, Activision and Infinity Ward, will raise the bar higher than ever before for this incredible franchise."

Activision also revealed that beginning today you can pre-order Call of Duty: Ghosts at your favorite game store.

"There's no other video game property like Call of Duty. It's the biggest game franchise on the planet that has had some of the biggest game entertainment launches in history," said GameStop President Tony Bartel. "We are very excited for the launch of Call of Duty: Ghosts, as we transition to next generation consoles."

There you have it. CoD Ghosts is slated to be released on the Xbox 360, PS3 and PC on November 5. Call of Duty Ghosts will also be available on PS4 and the new Xbox although, no specific release date was given for those next-gen consoles.

Check out the teaser trailer for Call of Duty: Ghosts below and tell us what you think. Are you excited for Infinity Ward's latest entry into the Call of Duty series?