Company of Heroes 2 News: Company of Heroes 2 fans will have fun playing in key battles from 1941 with new theater of war mode.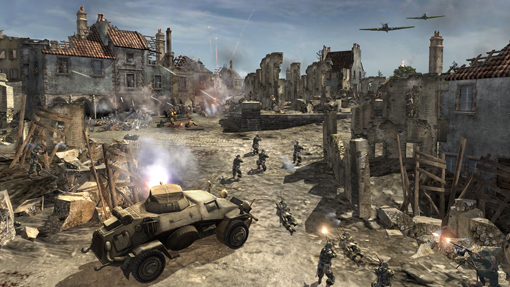 Company of Heroes 2 is set to ship with an all-new mode call Theater of War according to Sega of America. Theater of War allows Relic Entertainment to tell different stories from the conflict in the form of new playable single player and cooperative content. The mode includes solo challenges where players are pitted against overwhelming odds, AI battles against an enemy commander with a unique play style and cooperative scenarios for fans to enjoy with their friends.



When Company of Heroes 2 hits the PC, the Theater of War mode will include missions from key battles in 1941. Choosing either the Soviet Red Army or the Germans, players will visit different locations across the Eastern Front and take part in some of the most famous battles that occurred that year. Each faction has nine unique missions included. More Theater of War missions will be added to the game at a later date, including the previously announced mini-pack for all eligible pre-order customers.

Greg Wilson, Producer of Company of Heroes 2, commented, "We get a lot of requests from fans to showcase specific conflicts from the war and it isn't always possible to fit those into the campaign. Theater of War gives us the opportunity to deliver these new gameplay experiences to our fans."

Quinn Duffy, Game Director, commented, "Theater of War acts as a perfect bridge between the game's single and multiplayer content providing a high level of re-playability and helping to introduce traditionally solo players to the online elements of the game."

Company of Heroes 2 is currently slated for release on June 25 for the PC. Do you plan on picking this title up?