Watch Dogs Release Date News: Ubisoft released a new Watch Dogs trailer and gave video game players a release date for the PS3, Xbox 360, Wii U, PC and PS4 game.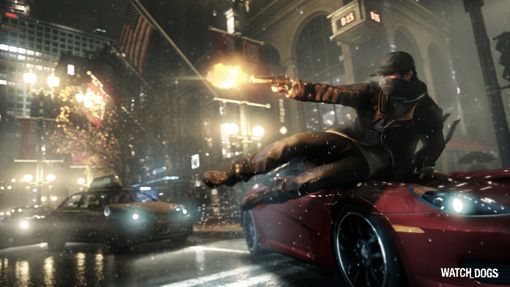 Watch Out! The official Watch Dogs release date has been spied for Nov 19, announced Ubisoft. Earlier today, the French publisher revealed the date we can all tear through a virtual representation of Chicago on pretty much any console we choose. So far the game has been announced for PS4, PS3, Xbox 360, Wii U, and PC. The game hasn't been "officially" announced for the next Xbox but who are we kidding? Everyone knows it will be on there and the "official" announcement will come soon after the console unveiling on May 21.



In addition to the new trailer being released, four different Collector's Editions were revealed with the Special Edition, the Vigilante Edition, the uPlay Exclusive Edition and the Dedsec Edition. The items included within these different editions include:

Special Edition - Breakthrough DLC vehicle mission that comes with four different cars.


Vigilante Edition - Collector's Box, Replica Vigilante mask and Aiden Pearce's hat, 'Palace Pack' DLC mission and the Watch Dogs soundtrack.


uPlay Exclusive Edition - Steelbook box, 'Breakthrough' vehicle DLC pack, 'Signature Shot' weapon and outfit DLC, 'Palace Pack' DLC mission that will reward you with two additional abilities, Investigation Bonus and ATM Hack Boost.


Dedsec Edition - Collector's Box, Steelbook box, four augmented reality cards, 23cm statue of Aiden Pearce, Map of Chicago, Watch Dogs artbook, Watch Dogs soundtrack, set of three exclusive Watch Dog badges, 'Breakthrough' vehicle DLC pack, 'Signature Shot' weapon and outfit DLC, 'Palace Pack' DLC mission.


With Ubisoft confirming the release date of Nov 19 for Watch Dogs and with it also confirming that it will be a PS4 (and presumably Xbox 720) launch title, then I think it is fair to assume the next-generation consoles will be out in that same time frame. Perhaps not on Nov 19 itself, but pretty close to it. Another thing to keep in mind is that Ubisoft is also releasing Assassin's Creed 4: Black Flag at the end of October, which will also be available for both current and next-gen platforms.

Will you play Watch Dogs on the next gen platforms or stick with the current gen? Take a look at the new trailer that was released to coincide with the release date announcement below.