Tomb Raider Amazon News: Where should you buy Tomb Raider 2013? The Xbox 360, PS3 and PC versions of the game are discounted on Amazon.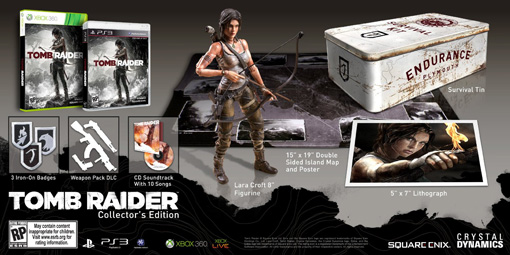 Tomb Raider is on sale for as little as $34.99 as today's Amazon Gold Box deal less than a month after the Lara Croft reboot released on the Xbox 360, PS3 and PC.

Tomb Raider for Xbox 360 and PS3 is the very reasonable price of $41.99, while the digital download PC version of Tomb Raider is just $34.99 - the cheapest way to play the new game.

For the ultimate Lara Croft fans, Tomb Raider Collector's Edition is also discounted right now, selling for $75.99. However, this Amazon lightning deal only seems to apply to the Xbox 360 version of the deluxe game.

Tomb Raider Collector's Edition on PS3 still stands at full price, while there is no Tomb Raider PC Collector's Edition that exists.

Either way, Tomb Raider 2013 has been receiving rave reviews and isn't likely a game you'll see on sale as a used copy quite this fast.

Whether you end up buying Tomb Raider for 30 percent off or Tomb Raider Collector's Edition for 24 percent off, this is a pretty good Amazon video game deal.

Kingdom Hearts 3DS, Black Ops 2 deals

In addition to the new Tomb Raider game, Amazon lightning deals will likely include Kingdom Hearts 3D Dream Drop Distance, Call of Duty: Black Ops 2, and Kinect Disney Adventures, Need for Speed: Most Wanted and some gaming accessories.

CoD Black Ops 2 and Need for Speed: Most Wanted are two good choices, but they're last year's hot video games, so it's nice to see Amazon giving the Deal of the Day to something that is a little more recent like Tomb Raider 2013.