Xbox 360 Bundle News: Xbox 360 Spring Value console bundle announced by Microsoft, on sale at Amazon, Walmart, GameStop, Target and Best Buy.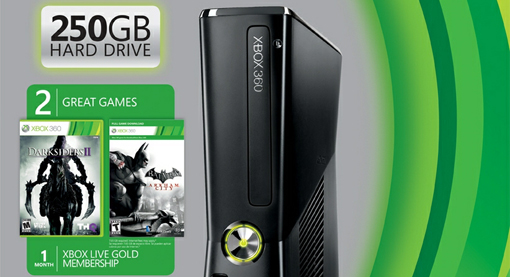 There's a new Xbox 360 bundle deal starting today, with a 250GB hard drive and two free video games as part of the $299 deal.

Microsoft spokesperson Major Nelson, aka Larry Hryb, announced that the "limited edition" spring bundle includes a copy of Batman: Arkham City and Darksiders 2.

These games, both available in the bundle via a download, are retailing for $20 and $25 separately on Amazon, while the 250GB by itself is still $299. So, the games-included deal is icing on top of the cake.

"[The] new Xbox 360 bundle will be available for a limited time, while supplies last, at select major US retail stores this spring." said Hryb on his blog.

Where to buy the new Xbox 360 bundle

So far, retailers with the Xbox 360 Spring Value Bundle include Amazon, GameStop, Best Buy, and Target.

In addition to the 250GB hard drive-equipped console and two free Xbox 360 games, the deal has a wireless controller and one month free of Xbox Live Gold.

Meanwhile, Walmart has an even better $239 bundle that includes Darksiders 2 as one of 52 game choices (Batman: Arkham City isn't listed as an option). This Xbox 360 Ultimate Bundle from Walmart also has an extra controller, but no free month of Xbox Live Gold.

With analyst predicting that Microsoft will soon announce a "Xbox 720" as its next console and come out with it in fall 2013, this may be one of the last special bundles to release while Xbox 360 is considered a current-generation console.