3DS, Vita Walmart Bundle News: Walmart is still discounting handheld video games bundles, with deals of Nintendo 3DS XL prices and the PS Vita Black Ops bundle.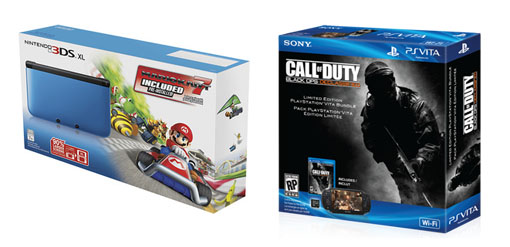 The best Nintendo 3DS and PlayStation Vita deals remain at Walmart, even with the deep discounts on many of the store's console bundles have come and gone.

Walmart is selling a customizable Nintendo 3DS XL bundle that costs $224, and you have the ability to get three games out of the deal. The first option consists of a blue/black 3DS system with Mario Kart 7 bundle, a standalone blue/black 3DS, a red/black 3DS or a pink/white 3DS.

Really, who wouldn't pick the Walmart Nintendo 3DS bundle with a free copy of Mario Kart 7?



In addition to coming with the Nintendo 3DS XL console (which is the larger and preferred model of 3DS), this Walmart deal offers the ability to add two more games out of 24 choices. Many are launch titles, but still good games. Standouts include Super Street Fighter IV: 3D Edition, Tom Clancy's Splinter Cell 3D, Asphalt 3D and LEGO Pirates of the Caribbean.

All bundle options include a universal case pack. However, the Nintendo 3DS Walmart deal tries to upsell you on other "optional accessories" when it just adds to the $224 price of the bundle.

PlayStation Vita bundle at Walmart

There's also a

PlayStation Vita Walmart bundle

priced at $249. It comes with the WiFi PS Vtia model in black, a copy of Call of Duty: Black Ops Declassified and a 4GB memory card.

CoD: Black Ops Declassified is an average game for the PS Vita. Even so, Walmart is selling the standalone PS Vita for the same $249 price too, so a free game and a free memory card doesn't exactly hurt when you're putting a bigger box under the Christmas tree.

Think of it this way: come January, Walmart's trade-in game might look like a tempting way to add to the PS Vita game collection.