PS3, Xbox 360 Bundle News: The final day of Cyber Week has Walmart discounting PS3 and Xbox 360 bundles, including ones with FIFA 13, ending the week of great deals.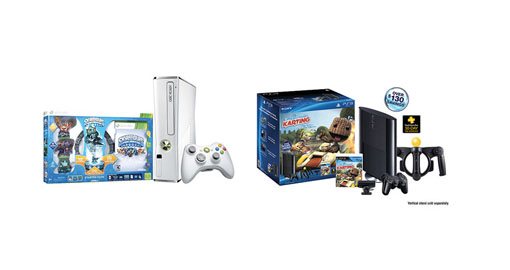 Walmart is offering discounts on its exclusive PS3 250GB bundle that comes with LittleBigPlanet Karting and PlayStation Move, while also offering multiple Xbox 360 bundles including a 4GB console with the Skylanders starter kit.

With Cyber Monday coming to an end today, the PS3 250GB bundle for $299 is the best bundle deal being sold at Walmart. In addition to the high-capacity system, LBP Karting and a full PlayStation Move accessory set, it comes with an appropriate PS Move Racing Wheel.



Whether or not this racing wheel add-on is as good as using the PS3 controller remains to be seen, but you won't be missing out on force feedback - it comes with vibration built-in, which is rather unique. This certainly isn't the Wii Wheel accessory Nintendo packed-in with Mario Kart Wii a few years ago.

Xbox 360 bundle at Walmart

The Xbox 360 bundle that Microsoft is selling is a

create-your-own Xbox 360 bundle for $284

with a number of upgrades.

There are three different console types to choose from: a 4GB Xbox 360 S in black, the original 4Gb Xbox 360 bundled the Skylanders Starter Kit or the limited-edition Xbox 360 320GB Star Wars Bundle. The latter comes packed with Kinect Star Wars and a Kinect sensor, but also comes with a price that's inflated by $185.

Choice of controllers include black, white and, for $10 extra, the Halo 4 limited-edition controller. All are wireless controllers and are in addition to the one that comes with the Xbox 360 bundle.

With multiplayer confirmed, this Walmart deal allows you to pick one game from 24. Surprisingly, there are several good games on this list, unlike previous Xbox 360 bundles from Walmart. You'll find FIFA 13, CoD MW3, Borderlands 2, Madden NFL 13 and Skyrim, for example.

Sadly, you can only add one free game to this particular Xbox 360 bundle deal.

The PS3 250GB bundle and variety of Xbox 360 bundles are due to expire at midnight, according to the Walmart discount flyer.