iPhone 5 News: Getting an unlocked iPhone 5 contract-free became easier today, now that Apple has made the phone available on the Apple Store website.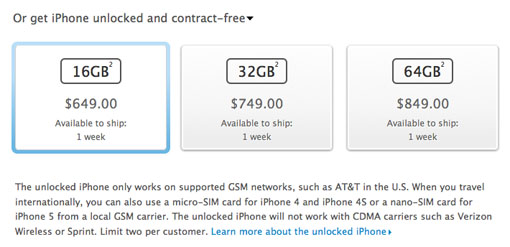 The Apple Store website updated today, making an unlocked iPhone 5 that's contract-free available for the first time.

Of course, selecting an iPhone 5 without a binding two-year wireless plan from AT&T, Verizon or Sprint in the U.S. puts a premium price on the smartphone.



The price of an unlocked iPhone 5 is $649 for the 16GB model, $749 for the 32GB model and $849 for the 64GB model. All three versions still have a one-week wait period.

Ordering an unlocked iPhone 5 without a contract at Apple retail stores is also possible.

By comparison, the prices for a locked iPhone 5 with a contract under any of the three carriers are $199, $299, and $399 for the respective model sizes.

All of this is rather expensive for an unlocked smartphone, even a top-of-the-line one. Google is selling its popular, but

shipping-delayed unlocked Nexus 4

Android phone starting at a reasonable $299.

Buying an unlocked iPhone 5 that's contract-free comes at a price, but the freedom to upgrade to an iPhone 6 eventually or switch carriers at-will is the ideal option for some Apple fans.