News: Deals for Kindle Fire cause Amazon's tablet line to dominate Cyber Monday, while Black Ops 2 and Halo 4 are the best selling games.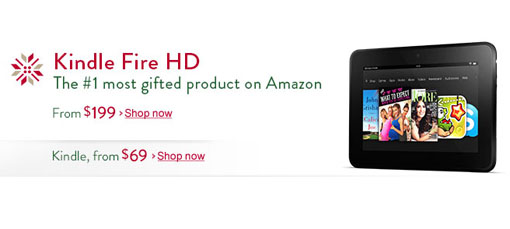 Kindle Fire HD and its siblings dominated the Amazon Cyber Monday deals this year, while CoD Black Ops 2, Halo 4, and Just Dance 4 lead the best selling video games list.

The 7-inch Kindle Fire the best-selling Amazon product during Cyber Monday, even though it's a last-generation tablet. That's because Kindle Fire was discounted to just $129 when it's normally $159.



The more desirable Kindle Fire HD, meanwhile, came in a close second with a $199 price tag, and the 7-inch Kindle Fire without ads (also discounted) was third now at $174.

The Kindle selling konga line continued at Amazon, with Cyber Monday placing the now $199 Kindle Paperwhite 6-inch eReader in fourth and the $69 Kindle 6-inch E Ink Display WiFi in fifth.

The best selling Blu-ray player, the Panasonic DMP-BDT220 with integrated Wi-Fi and 3D, broke that trend. Another home theater device, the $89 Apple TV, followed in seventh place.

The lone Kindle in eighth place was the $69 black version of the 6-inch E Ink Display. The Roku HD Streaming Player and Garmin nuvi 50LM 5-inch GPS with Lifetime Maps, both items deeply discounted at $39.99 and $99.99, rounded out the top 10.

Best selling video games during Amazon Cyber Monday

Electronics weren't the only top-selling item deals in bargain hunter's shopping carts this Cyber Monday.

Just Dance 4 for the Nintendo Wii and Xbox 360 continued to sell well, along with more mature titles Halo 4 for Xbox 360 and Call of Duty: Black Ops 2 for the Xbox 360, PS3, PC and Wii U.

Sports games Madden NFL 13 and FIFA 13 joined NBA 2K13 in the top 20 thanks to discounts that brought that games under $40.

Sequels Assassin's Creed 3 and Dance Central 3 were also big sellers during Cyber Monday, while the lone original game, Dishonored, finished closely behind in the top-selling video game category.