Cyber Monday Best Buy News: Cyber Monday at Best Buy discounts the super-sized Nintendo 3DS XL and games like World of WarCraft: Mists of Pandaria.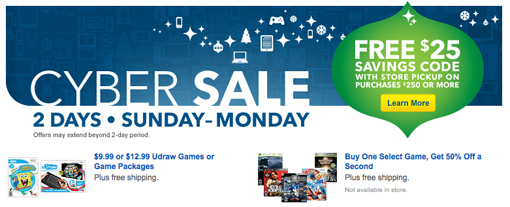 Best Buy Cyber Monday deals are on, with the best discounts on Nintendo 3DS XL hardware. The price is $179.99 on Nov. 26, saving you a cool $20 for other gifts.

Cyber Monday at Best Buy has also reduced the price of the regular Nintendo 3DS, which sits at Sale: $149.99 when the original price is $169.99 - another $20 savings.



Best Buy Cyber Monday video game sales 2012

On the video game side, Xbox 360 Kinect game Dance Central 3 is a good deal at Best Buy in particular. It's Cyber Monday deal has the game on sale for $23.99. Dance Central 3 normally retails for $49.99, and the Best Buy version comes with two free bonus songs.

World of Warcraft: Mists of Pandaria is another recent release with quite a price cut. Best Buy has lowered the WoW expansion by half to $19.99 during Cyber Monday.

Medal of Honor: Warfighter Limited Edition on both Xbox 360 and PS3 is $28.99, a $31.00 discount that makes the original launch price seem like a sucker's purchase.

The last two video games worth looking into this Cyber Monday at Best Buy are from Activision. Transformers: Fall of Cybertron and Prototype 2, both retailing for $29.99.

In addition to these Best Buy deals,

Amazon

,

GameStop

, and

Walmart

have their own discounts for Cyber Monday you should check out.