Amazon Balck Friday News: Black Friday deals from Amazon for 2012 include sales for GTA 4, Max Payne 3 and Diablo 3.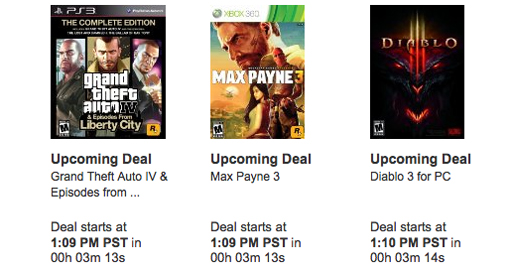 The Amazon Black Friday deals for 2012 are in full swing, starting with a sale on sales Grand Theft Auto 4 - just in case that GTA 5 trailer inspired you to pick up and finish the 2008 video game.

The Black Friday deal for Grand Theft Auto 4 brings its price down to just $15, half off of what it is normally.



Max Payne 3, a more recent video game release, is also among Amazon's heavily discounted Black Friday deals. It's price is $15, too, but that's 75 percent off of its normal retail price.

Another half off discount on Amazon comes by means of Diablo 3 for the PC. The game, which released this past May, is costs just $30.

Of course, with all of these Amazon Black Friday video game deals, the merchandise sells out quickly. So being a nimble shopper is essential before all of the discounts are claimed and the deals go revert back to full price.

Gaming Target will be delivering more Black Friday deal news, and you should check out the update about the

Apple Store Black Friday deals

before the end of the day.