News: SWTOR servers are down ahead of its free-to-play transition and the patch 1.5 debut.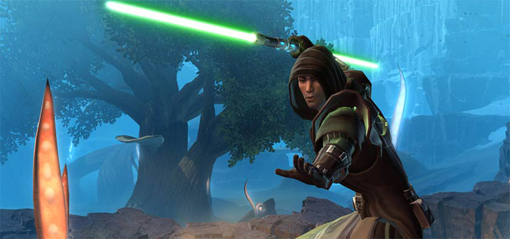 Star Wars: The Old Republic becomes F2P today with Game Update 1.5
SWTOR servers are down ahead of its free-to-play transition and the patch 1.5 debut.

Star Wars: The Old Republic is going free-to-play this morning and launching Game Update 1.5, just shy of a year after the BioWare-developed game came to EA's Origin service.



This means that players in this MMO universe will no longer be required to pay the $15 a month subscription fee in order to access the game. F2P means that they can play up to level 50.

Unlimited access beyond that will still require the subscription, but includes higher-level game content and features. SWTOR will allow for this extra content to be bought a la carte, too.

SWTOR switch to free-to-play

EA and BioWare first announced the SWTOR free-to-play option was first this summer, with months of speculation leading up to the inevitable news about Game Update 1.5.

That wasn't always the case. Right after SWTOR launched on Dec. 20, 2011, the game had quickly amassed one million paying subscribers. That made it the fastest growing MMO ever.

While it seemed like it could take on titans like World of WarCraft with those numbers and had enough Game Update patches to keep content fresh, F2P has become the business model of choice for new MMO games.

This is on top of the fact that Star Wars: The Old Republic is estimated to be the most expensive ever developed, with a budget speculated to be between $150 million and $200 million.

SWTOR servers are down

The Star Wars: The Old Republic servers are currently down, but that shouldn't be the case for too much longer.

The SWTOR twitter account that the server's downtime will total 12 hours, returning at 1:00 p.m. Eastern / 11:00 a.m. Pacific - give or take a couple of F5 key refreshes.

The good news is that when Game Update patch 1.5 launches, BioWare is giving paying subscribers "complimentary Cartel Coins currently listed on the Cartel Coin Ledger page, plus a one-time grant of 250 Complimentary Cartel Coins."

The company is also extending the Rewards Program.

"All former subscribers who reactivate their subscription by the new date of December 20, 2012 at 11:59am CDT will be granted Complimentary Cartel Coins for their prior paid months up to November 15, 2012," promised the developer in a press release.

Videos for SWTOR F2P players

BioWare released two previews of SWTOR free-to-play using Game Update 1.5.

The second video goes even more in-depth with the F2P gameplay you can expect today later today.