Epic Mickey 2 News: Entitled ?The Power Of Storytelling,? this new Epic Mickey 2 video takes a look at the crafting of the Xbox 360, PS3 and Wii game's story.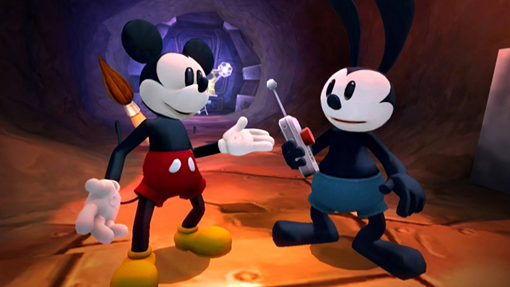 This Epic Mickey 2: The Power of Two behind-the-scenes trailer explores the storytelling of the upcoming Xbox 360, PS3 and Wii game. Its focus for almost the entire two-and-a-half minutes is on famed Marvel and Disney Adventures Magazine scribe Marv Wolfman.



"When I heard that we had him on as the contracted writer in the game, it was like ?YES!'? says Epic Mickey 2 Senior Designer Brian Freyermuth rather enthusiastically. ?It was very cool.?

?Comics, as a writer, I control everything.? Wolfman says in this inside baseball YouTube video. ?Video games, are unique in that the player is effecting things and therefore as a writer, you have to take that into account and give the information that's necessary in ways that give them the freedom to go off to do it the way they want.?

Wolfman goes on to say that ?You look at these characters and you just sort of know inside your head how they should act. I've worked with artists all of my career and that's exactly how I do it in comic books and in animation. You get inspired by the artwork. And Disney artwork is specific and it's beautiful.?

One of the main goals of Epic Mickey 2, according Freyermuth, is player-direction in levels. This is carried out with new co-op gameplay, which the developers says is supposed to enhance the idea that ?PlayStyle Matters.? We'll see if all of these ideas come to fruition on November 18, the Disney Epic Mickey 2 release date.