Battlefield 4 News: Battlefield 4 and its upcoming gets outed by a Medal of Honor pre-order slip-up. Expected BF4 release date: fall 2013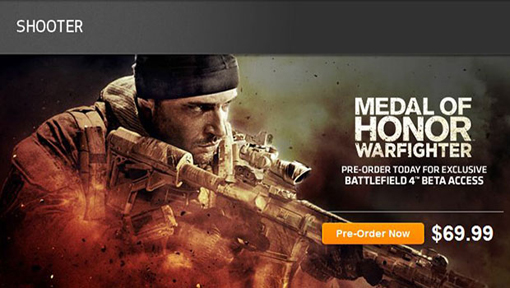 There's no denying that Battlefield 4 is in development now. Electronic Arts was forced to officially announce that both the FPS game and an upcoming Battlefield 4 beta do indeed exist thanks to a leaked Medal of Honor: Warfighter: Limited Edition incentive that outed BF4 beta. And there's no one to blame by EA. The company's own online store, Origin, leaked the MoH Warfighter promotion even though Battlefield 4 wasn't announced yet, nevermind the beta.



The slip-up aside, this is great news for fans of Battlefield, which is Call of Duty's closest competitor. When Medal of Honor Warfighter releases this fall, EA promises ?the most authentic shooter this holiday. Medal of Honor Warfighter is the only game that puts players in the boots of the world's most aggressive, precise and disciplined warfighters, fighting battles that are ripped from headlines around the globe.? Battlefield 4, with a fall 2013 release date, should top that the very next year.

Since 2010, EA's Medal of Honor and Battlefield have had back-to-back releases during the holiday season. In fact, 2010 was the same year that the company started including Battlefield beta codes within limited edition copies of the Medal of Honor reboot to spur extra sales.

We'll have more Medal of Honor Warfighter coverage and, now, Battlefield 4 coverage in the coming weeks and months, as EA makes more announcements officially

and

unofficially.