FF7 Remake News: Final Fantasy VII gets a re-release later this year with a FFVII release date that ties into Square Enix's 25th anniversary of Final Fantasy.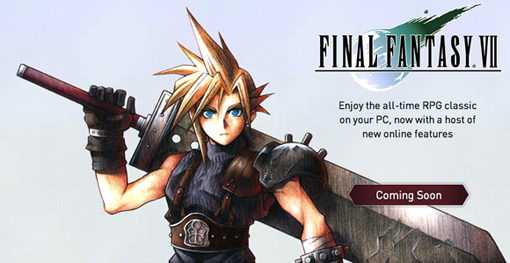 Final Fantasy VII is set to hit PCs later this year according to Square Enix. In a move that is sure to please Final Fantasy VII fans, Square has announced that they will re-release it later this year with some modern features. While no Final Fantasy VII PS3 version has been announced, this PC Final Fantasy VII will incorporate key features that help players relive the award-winning story and share their experiences with friends.



Some of these new features will include cloud saves and a game editor that allows players to maximize characters health, magic and money. Also planned is an in-game achievement system which allows players to explore various facets of the game and share progress with friends online.

If you have somehow never played or heard of Final Fantasy VII it was originally released for the Playstation in 1997. Final Fantasy VII was a title that helped to redefine the role playing genre and was the ?gateway drug? for many people who had never experienced a role playing game before. Introducing the now infamous rivalry between Cloud and Sephiroth, it delivered an intricate and emotionally compelling storyline through cutting-edge (at the time) pre-rendered cinematic cut-scenes and set in a rich, diverse world. The game features an acclaimed collection of musical scores and 3D battles, and is regarded as one of the most significant entries in the Final Fantasy series and one of the most innovative games in the industry of all time.

Since the release of the original Final Fantasy in 1987, this RPG series continues to showcase spectacular visuals, imaginative worlds and rich stories. Whether the series has improved with age is a debatable topic, however, I enjoy the Final Fantasy titles of today just as I did back then. Celebrating its 25th anniversary, the Final Fantasy series has achieved a cumulative shipment of over 100 million units worldwide. This re-release of Final Fantasy VII will be available later this year to help celebrate the 25th anniversary of the series.

The exact Final FantasY VII release date and price point will be revealed at a later date. Are the new, modern features enough to get you to purchase this title again?