Assassin's Creed 3 for PS Vita News: Assassin's Creed 3: Liberation shows that the PS Vita version's story is going to embark on a whole new war.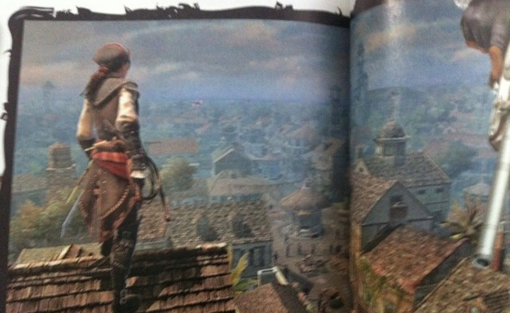 Assassin's Creed 3 for PS Vita was outed by online game retailer Zavvi only a week ago and, besides being scheduled to coincide with the Xbox 360 and PS3 versions, there were few details. Cue Game Informer to provide the first glimpse of the brand new PS Vita title, now called Assassin's Creed 3: Liberation.



With E3 2012 right around the corner, it appears that Game Informer cannot keep a lid on the information and it keeps seeping out, to the delight of gamers. The magazine posted full color pictures and teased details of the upcoming Gears of War prequel entitled Judgment. Now, a neoGAF user, going by the name of ImLibo, has provided a heads up on the new Assassin's Creed game for the Vita thanks to having got his hands on an early copy of July's edition of the Game Informer magazine.

The game is said to take place in New Orleans, across the Gulf of Mexico, towards the end of the French/Indian War (1765-1780). Two photographs of the magazine article in question were also tweeted, which back up the thread's claims that we will play as a completely different protagonist in the form of a female French assassin of African descent named Aveline. The thread also states the inclusion of a multiplayer mode, which has been tailor-made to incorporate all of the Vita's features.

The story will not be directly related to Desmond this time, and it appears that the game has in fact been released as a propaganda tool by Abstergo, who want to fill us in on a gray area of the Assassin/Templar conflict putting us in the shoes of an assassin rather than a templar.

Assassin's Creed 3 for the PS3 and Xbox will feature wild animals, and this will also be the case on the Vita. The post states that wildlife such as alligators will be waiting on the banks of swamps or hiding beneath murky waters.

I am sure, like myself, this news will have raised your expectations fiftyfold. I am sure we'll be seeing actual footage of the game over the next few days, so it is not surprising that Game Informer didn't want to sit on this information until after E3.

The Assassin's Creed 3: Liberation release date is October 12, 2012 and is being developed by Ubisoft Sofia, all the way in Bulgaria.