Dead Space 3 News: If the Dead Space 3 trailer and screenshots were not enough, Game Informer drops all the Dead Space 3 details you could want.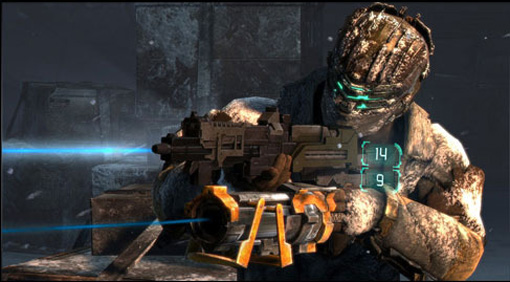 Dead Space 3's trailer, in the form of a graphic novel teaser trailer, introduced us to a new character named Carver. We then caught a glimpse of the new icy planet where the new game will be transporting us to. If that wasn't enough, good old Game Informer makes it a hat trick. First, Gears of War: Judgment, then Assassin's Creed 3: Liberation and now they drop all the details about Dead Space 3.



First up, be ready to expect more of an open-world-style gameplay, as Dead Space 3 is expected to be less linear than the first two games. You will explore massive environments featuring ?unique beta missions? which are do not necessarily have to be accepted in order to complete the main story mode. The icy planet also has an official name: Tau Volantis.



Based on the introduction of the Carver character, it seemed apparent that there would be some form of drop-in, drop-out co-op play. There will, however, be no form of competitive multiplayer in Dead Space 3, at least for the time being anyway.

Also, rather than Isaac slowly losing it by talking to himself, he will now get cutscenes where we will see him interacting with Carver. I imagine Visceral Games hasn't gone for Mass Effect 3's man-on-man funny business with Dead Space 3, though. Having said that, if they going for fear factor, then that really would creep a lot of gamers out.

Many people have been concerned that the new icy planet would do away with the zero space gravity feature and dark corridors. Well, you can all rest assured that these will be present just as they were in previous Dead Space titles. There will also be some form of cover system, so it looks like we'll be on the receiving end of gunfire this time round. This is most likely from survivors on the planet, as seen in one of the screenshots released.

What about the new enemies? As soon as the screenshots were released, everyone picked up on the necromorphs having four hands. According to Game Informer, there is are new types of necromorphs known as Fodders and Feeders with Visceral games galling them ?snow beasts?. Fodders transform into two different necromorphs depending on how you kill them off.

Talking of killing, what arsenal will we be treated with this time round? Apparently, Dead Space 3's guns will create deadly mash ups such as the Plasma cutter/Ripper combo. There has been no news from Visceral, as to how these weapon mods will all work, but I'm sure we'll be hearing more on this over the next few days.

We will keep you updated as we hear more from Tau Volantis.