Madden NFL 13 News: Cover athlete for Madden NFL 13 goes to Calvin Jonhson, the wide receiver out of Detroit.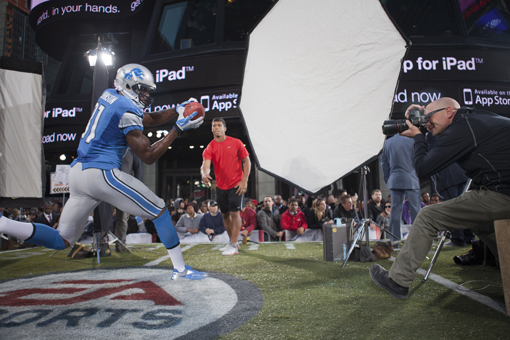 Further illustrating that Detroit is on a comeback and that, specifically, the Detroit Lions will leave their 0-16 2008 season in the past, Madden NFL 13's cover athlete will be wearing Honolulu Blue for the first time since the 90s. That's because wide receiver Calvin Johnson won the Madden NFL cover athlete vote, which originally included 64 players in contention and saw almost 20 million votes in the end.

Johnson had a career high of 1,681 receiving yards and 16 touchdowns last season. This, no doubt, helped lead him to win the Madden NFL 13 cover vote with 52 percent of the 651,000 votes cast in the final round of the competition. The ?red zone? of this seven-week vote campaign was held in Time Square, where Johnson defeated top-seeded Carolina Panthers quarterback Cam Newton live on ESPN's SportsNation.

?Knowing that millions of fans took part in the campaign, and to be the one they selected to appear on the cover of the game they play every day is an honor,? said an ecstatic Johnson. ?To make it this far, and to beat out guys like Cam and Aaron Rodgers, a Super Bowl winning quarterback, it's surreal to say the least. Much love to all the fans who voted for me.?

Wasting no time, EA Sports orchestrated Calvin Johnson's Madden NFL 13 cover photoshoot right in Time Square as a packed crowd looked on. The quick turnaround means that Johnson had no time to rethink his stance on the Madden curse, something he has previously dismissed before winning the popular vote last week.

One of the photos from the event will be selected for the cover of Madden NFL 13, which starts appearing on store shelves August 28. Moving forward, we'll follow up with more news about Calvin Johnson, his Madden NFL 13 cover photo (when EA picks it out) and the week-to-week outlook on that Madden curse as the football season begins anew.