Interview with Kevin Wasielewski CEO of Origin PC: Scroll down to see an unbelievable collection of PC games at the Origin PC office!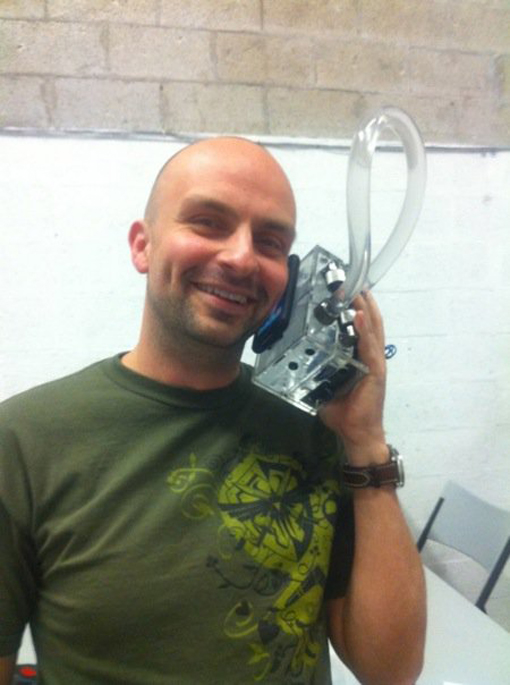 Mr. Wasielewski always has his ear to the latest technology
Interviewing Kevin Wasielewski (pronounced wash-a-leski), I expected a PC gaming elitist. A former Alienware executive, now CEO of his own company
Origin PC
, I wondered if he had time for anything that wasn't overclocked and choked with RAM. Instead, he came off like a PC gaming ambassador and a total lifetime gamer. From the early days of Police Quest and Rainbow Six LAN parties at his mother's house, to playing Arkham City on his 60? 3D display, he's always been a man in search of the ultimate gaming experience. When we talked about Dell taking over Alienware, Valve and the hardware market, and the specs for playing Skyrim at 2560 x 1600, a winning combo of nerd passion and business sense bubbled to the surface. In short, he's exactly the kind of guy you'd want supervising the construction of your PC gaming masterpiece.
GamingTarget:
You and your partners at Origin PC left Alienware after it was acquired by Dell. What motivated you to leave?
Kevin Wasielewski:
Dell came in and said they would not change anything and no one would lose their jobs. Then slowly but surely everything changed and manufacturing was laid off when they moved it to Mexico and China. We decided we didn't want to work for Dell and we wanted to get back to building high-performance, truly custom PCs with first rate support based in the United States.
GT:
Did the success of Steam have you feeling confident about the PC market?
KW:
Absolutely. Even when many people were busy talking about the demise and fall of PC gaming we felt very confident with the success of digital downloads and MMOs that were dominating the PC Gaming scene. There is no denying that Steam and Blizzard helped PC gaming not only survive but thrive very well.
GT:
How has Valve's platform, and digital distribution in general, changed your business?
KW:
Our business in particular was really only affected minimally. We offer a service to every customer of installing their favorite PC games when we ship them their PC. This used to be in the form of discs, but now we just download, and with the permission of the customer, install it on their Steam account. Personally, the only thing I don't like about digital downloads is that you don't get the cool box that comes with the game. We have a huge shelf of original PC game boxes in the office.
Origin PC's shrine to PC gaming
GT:
Recently,
Penny Arcade interviewed Gabe Newell
and the subject of hardware came up:
"Penny Arcade: Now do you see a future where Valve is actually selling hardware or do you just want to have things that could take advantage of that technology should it be popular?

Newell: Well, if we have to sell hardware we will. We have no reason to believe we're any good at it, it's more we think that we need to continue to have innovation and if the only way to get these kind of projects started is by us going and developing and selling the hardware directly then that's what we'll do. It's definitely not the first thought that crosses our mind; we'd rather hardware people that are good at manufacturing and distributing hardware do that. We think it's important enough that if that's what we end up having to do then that's what we end up having to do."
GT:
Can you see a future where hardware companies work closely with developers like Valve?
KW:
Sure thing, anything is possible in this business.
Valve worked with a peripheral maker for Portal 2 for that cool controller
. It would be great for a game developer to work closely with Origin PC to create a game or at least a level of a game designed specifically for a quad SLI rig with three monitors at 7680 x 1600. Imagine that!! I understand games need to be made for a wide audience, but I know for a fact that high end gamers would pay an extra $10 for a level of their favorite Valve game that was optimized for an ORIGIN high end gaming PC.
GT:
They also talk about tablet computing. Do you consider tablets competition?
KW:
Not at all. Tablet gaming, console gaming, cell phone gaming is all good. A true gamer plays more than one if not all of these platforms! Tablet gaming is a great way to get started at gaming or to game for a short amount of time on the go. When you want the ultimate gaming experience, you step it up to an Origin PC and a 30? monitor running Skyrim at 2560 x 1600.
GT:
What about
cloud computing services like OnLive
?
KW:
This is just another form of gaming that we welcome to the industry. The more people that try cloud gaming the better. Eventually a lot of these gamers will want a better experience and that is where Origin PC comes in.
GT:
Origin PC is know for customization beyond what most companies offer. Are there any custom jobs you guys are particularly proud of?
KW:
Wow, so many are going through my mind right now.
My favorite desktop is one that we built for a retired fighter pilot
. The PC really resembles a fighter jet and the missile on the side looks like it is coming out even though it is airbrushed onto the case. My favorite laptop is a sci-fi artistic masterpiece of a some blue moons, on a blue horizon surrounded by palm trees. You have to see it to appreciate it. Check out our
Facebook page
and browse our photo albums to see these and more!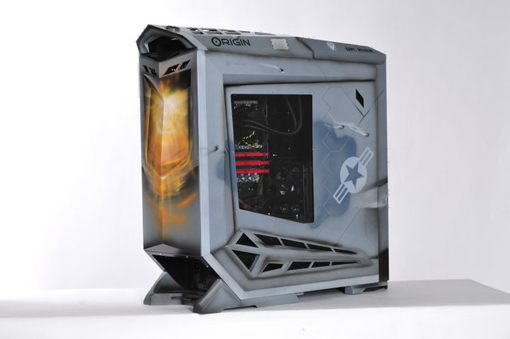 Yep, that'll break the sound barrier alright
GT:
What's the most powerful rig at the Origin PC office, and who does it belong to?
KW:
The most powerful rigs are in the test lab where we have phase change units running at 6GHz. If you are talking about here in the actual office that would actually be the EON17-X dual GPU laptop used by our design director. With the Intel X79 Hexcore desktop processor and dual 580Ms he cranks through Photoshop and Dreamweaver.
GT:
What's your personal gaming setup like? Are you a monitor and desk guy, or are you in the living room, plugged into an HDTV?
KW:
I actually like both setups. I have a 30? monitor and a GENESIS desktop in my bedroom for Skyrim with an Overclocked Intel 2700K processor and Dual NVIDIA 580's to make my games come to life. Downstairs a have an EON15-S laptop that I plug into my 60? 3D HDTV when I want to play Batman [Arkham City] with NVIDIA 3D Vision 2.
GT:
Connecting a laptop to the TV for streaming video and gaming is becoming more and more common. What Origin PC laptop would you recommend for a player who wants that kind of versatility?
KW:
My last answer does well for this too! The EON15-S or EON17-S is perfect for this. Powerful gaming rigs that are very portable and have built-in HDMI out.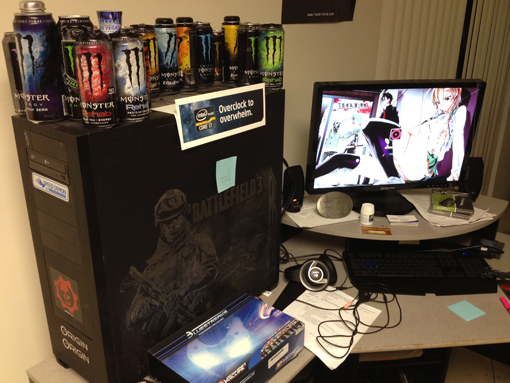 A real Monster system, built by Origin PC
GT:
What Origin PC desktop would you recommend for someone who wants a dedicated media center, with Blu-Ray support and maximum streaming video/television capabilities?
KW:
I'd recommend our
Chronos Small form factor
line of PCs which we can build in a variety of different shapes to match your living room or bedroom setup. Check out CNET in March for a review our CHRONOS desktop! Last year Game Informer gave it their Editors' Choice Award!
GT:
Your EON17-X laptop is up to 32GB of RAM, and dual video cards for 3D support. Does competition with Alienware drive your development?
KW:
Being a business built by gamers makes us naturally ultra competitive. Everything drives our development. We constantly strive to build systems with the most customization, highest performance, and best service and support.
GT:
What's the biggest challenge with cramming all that gear into a laptop? Heat, weight, or internal space limitations?
KW:
All of the above! If I had to pick one I'd say the biggest challenge for a high performance builder is heat. Our laptops can be overclocked to 4.8GHz. Sure we could build something smaller and lighter, but then it would not be high performance.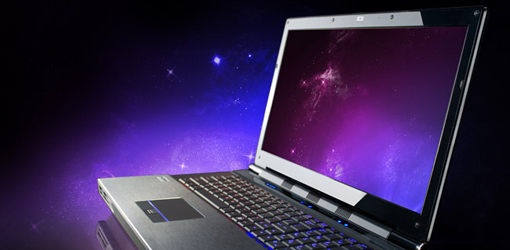 There's 32 freaking GBs of RAM in this thing!
GT:
What sort of software do you use to test your systems? Are there any games you use as benchmarks?
KW:
We use many different programs: 3DMark, PCMark, Linx, Prime95, SiSoft, Heaven, and more. We work with each customer 1 on 1 and, whenever possible, test the games that they tell us they will be running on their system.
GT:
I've heard you say your mother got you into gaming by bringing home the original Doom. Was your house the place where all the kids came to play games their parents didn't allow?
KW:
You know what, at first actually I didn't have friends to come over to play games. I was busy playing games like Police Quest, Hero's Quest, etc and those were primarily single player games. Then, for a period of time, I went to a friend's house every single day to play NES. His dad worked for Nintendo and he had every single NES game the day it came out. I was in gaming heaven at that point! Then later, when I got a little older, my house was absolutely the spot that everyone came to play games. Street Fighter tournaments on the big screen and I had a mini LAN set up to play Rainbow 6 deathmatch and co-op.
GT:
What are you playing these days?
KW:
Somehow I have avoided playing SWTOR although I am dying to play it. I just know that I will get too addicted to it and I don't have the time. Last week I was playing the Mass Effect 3 demo. Last month I was completely hooked on Skyrim, but I have finally put that down. I play everything so you can also find me online playing Gears of War 3 Horde Mode with PMS clan and NBA 2K12 for some classic basketball match-ups. Uncharted 3 was an amazing experience. Battlefield 3 was an office favorite for a while as we blew each other up every night for weeks straight. Recently I was messing around with Saints Row 3 because I love open world games, but I didn't get hooked on it. Tonight I am taking home a new ASUS 27? monitor to play Batman in 3D. I skipped that game last year because I was so addicted to Skyrim! Skyrim was the best game in 2011, in my opinion. Just an incredible amount of content in a living, ultra-realistic fantasy world. Playing it with all of the effects on max, high-res texture mods, and on a 30? monitor at 2560 x 1600 was gaming nirvana for me.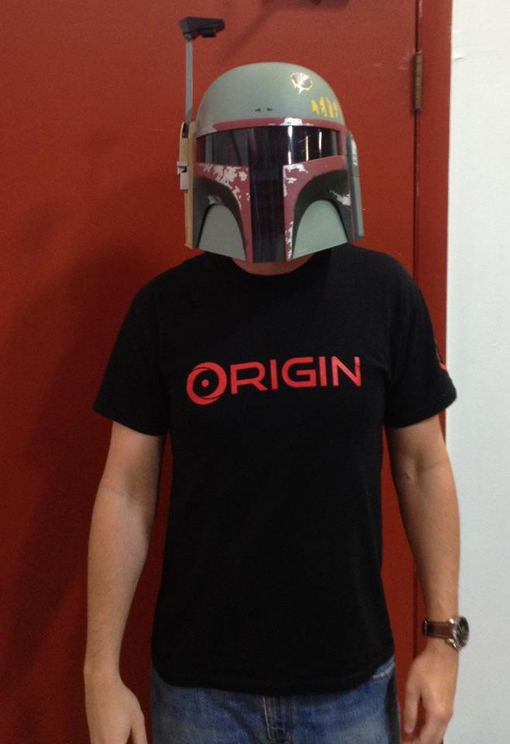 Kevin needs to have his head in the game, sometimes literally
GT:
What are your most anticipated upcoming releases?
KW:
Half Life 3. Yeah, I said it!
Max Payne 3
Diablo 3
BioShock Infinite
Tomb Raider
Borderlands 2
World of Warplanes
And, of course, GTA V
GT:
Have you and the team at Origin PC ever dissected an Xbox 360 or a PS3 to see what the competition's working with? Does it make you laugh?
KW:
LOL??YES
But really we have a lot of respect for consoles. They offer a cheap gaming solution and a good, fun experience. The more people gaming on consoles the better. When these gamers get a taste of playing Skyrim at 2560 x 1600 or playing COD with a mouse and keyboard they will discover a much better gaming experience and graduate to a high performance Origin PC.
Have you seen our
Big O
? We liquid cooled an Xbox 360 and put it inside a tower with a liquid cooled gaming PC for one of the greatest gaming PCs of all time. It won CPU magazine's Dream PC competition.
Thanks for taking the time to check out ORIGIN PC! Like our
Facebook page
for a chance to win free PCs and components and to interact with our gaming community!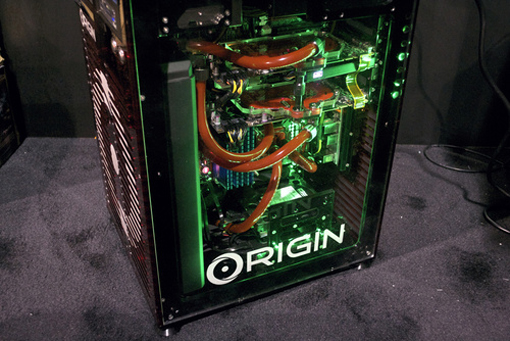 Believe it or not, there's an Xbox 360 in this thing