Prototype 2 Preview: In addition to previewing Transformers: Fall of Cybertron in Las Vegas, Matt also got a chance to go play a Prototype 2 demo for Xbox 360 and PS3.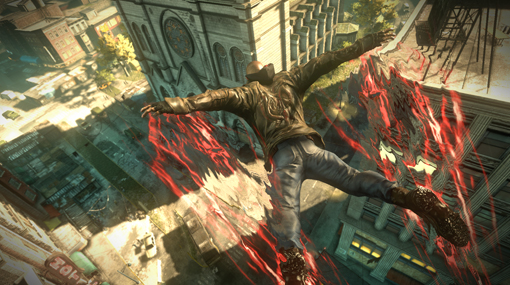 Prototype 2 may right the one glaring wrong that Activision and developer Radical Entertainment made with the first game: releasing two weeks after Sony's similar open-world, supernatural title, inFAMOUS. In case you missed it because of that or any other reason, here's the skinny: the original Prototype delivered an interesting, mutant-filled storyline, gave you the freedom to move throughout the concrete jungle of New York City with Spider-Man-like agility (no tights required), and allowed you to unleash limitless power over everyone, from pawn-like pedestrians to monstrous bosses. It wasn't a bad game - it just had bad timing. Prototype 2, penned in with an April 24 release date and safely releasing far away last year's inFAMOUS 2, can finally get the respect the series deserves.
Storyline
With competitors at bay, Prototype 2 had my full attention during a Las Vegas demo session in which I got to check out the first four missions of the game. But before I dove into a half-hour of gameplay, the opening cinematics unfolded and seemed to take just as much time. Luckily, Prototype 2's storyline is gripping from the very beginning thanks to new protagonist Sgt. James Heller, so I didn't mind all of the drawn-out dialogue. It has Heller conversing with his family during a series of overseas phone calls, reassuring them that he'll be home from his Middle East deployment soon.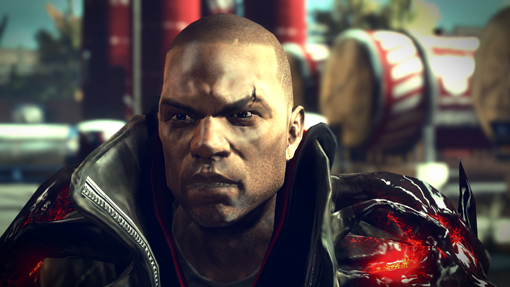 There's a real sense of grief for this father when he speaks to his young daughter. She tells him that she wants to go ride the rollercoasters again, only this time with him there. All he can say is that he'll be home in a couple of weeks. His wife sets the stage for the urgency of his return, telling him that she's concerned about the reemerging mutant virus.
Dubbed the "Mercer Virus," everyone thought it had been eradicated at the conclusion of the last game. Then there's the worry about the increasing presence of the elite government troops of Blackwatch. In his final call, Heller says to trust the Blackwatch forces and everything will be okay. He'll be home to see them the next day.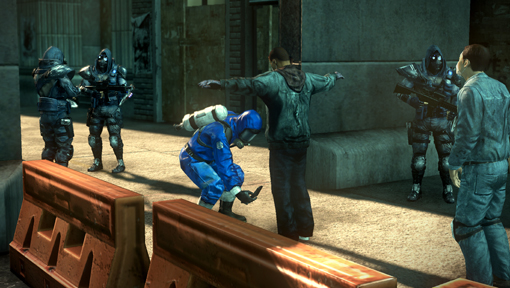 But 24 hours later, Sgt. Heller comes home to find out that everything is not okay - Blackwatch troops are burning the dead bodies of his wife and daughter along with other virus-infected New York citizens. In his mind, there's only one person to blame: Alex Mercer, the playable protagonist from the first game. Mercer is also Blackwatch's enemy number one. Naturally, Heller decides to join up with Blackwatch with the overt intention of eradicating mutants and the more discrete goal of killing the rarely seen Mercer, or die trying. He gets his wish when Mercer appears during one of his assignments and he makes a futile attempt to cheap shot the uber-powerful first-game protagonist. Yes, Mercer still retains all of his powers, but he doesn't waste Heller. Instead, he sees something in the man and decides to save him by infecting him with similar powers.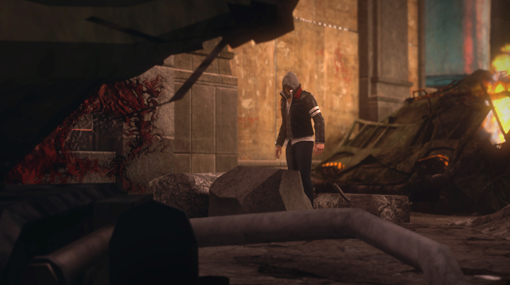 Gameplay
In addition to leaving Heller with a mutated version of his powers, Mercer, in a later scene, plants the truth in his head that this so-called "Mercer Virus" is really the work of Blackwatch agents. Heller is initially furious at Mercer for everything that happened to his family - he's the one who everyone is blaming for the outbreak and the game's story is set up for a Heller vs. Mercer showdown. That's unique for a game because you're taking on the protagonist that players of the first game spent so many hours playing as. But by showing Heller flashbacks, Mercer seems to be off the hook... for now. Heller is more curious about the Blackwatch connection and your missions begin with uncovering their secrets.
The open world gameplay begins at this point, leaving you to control Heller any way you'd like in New York City. Immediately, this newfound freedom will make you want to wall run up the nearest skyscraper, jump off of its roof and perform the invaluable glide ability over the city. You'll take solace in knowing that any hard landing is a-okay with this almost indestructible character. This makes his powers seem like the perfect merger of Spider-Man and the Hulk. He's Spider-Man when he goes up, Hulk when he crashes down onto the pavement.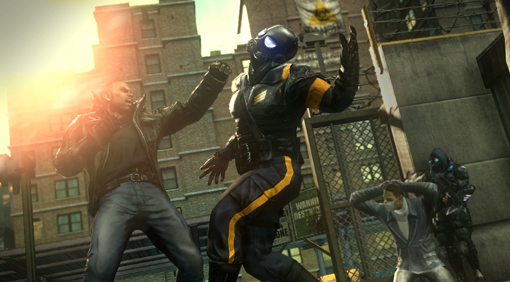 Once you get that irresistible urge out of your system, the first couple of missions will teach you a handful of Heller's abilities, including one that Alex Mercer didn't have at his disposal in the first game: Sonar. This is Heller's ability to track down enemy targets during hunting missions. In the first of these missions, we were supported by Father Guerra, who the developer describes as a Catholic priest and a "kind-hearted badass." His charitable background aids Heller in his fight against Blackwatch with story-expanding dialogue and "how to" gameplay teaching tools.
Sonar envelopes the world around Heller in a red tinge, then returns the environment to its normal hues from the center of his target. This makes the enemy stand out and look as if he's sending a pulse from his or her location. This is perfect for two reasons. First, tracking down Blackwatch commanders while perched on a tall building couldn't be easier. Second, it fits really well into the narrative. Developers are always trying to steer their games away from the typical HUD and this works like radar 2.0. Sonar leads to whipping out Heller's claws, blade and consuming powers - all returning moves from the first game - that much faster. Faster, of course, until you have to move on from the generic Blackwatch agent and tackle larger mutant enemies like Hunters and Juggernauts.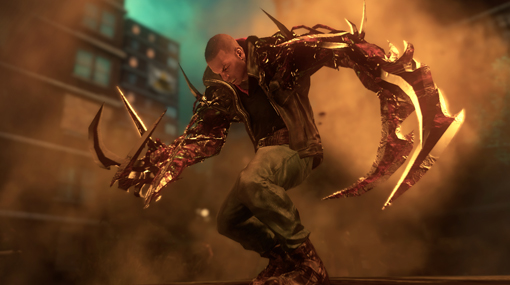 Also unique to Heller's repertoire and visually spectacular looking is the Biobomb. It calls for him to inject the virus into an unsuspecting enemy, sneak away from the target and, within seconds, watch too-many-tentacles-to-count explode from the enemy's body. This leads to the tentacles grabbing everything in a short distance - from other bad guys to objects in the environment - and pull them toward the infected body for an explosively gory execution.