XBLA and PSN Reviews: It's team Bat versus team Clown in the weirdest, wildest Batman game you'll ever play online.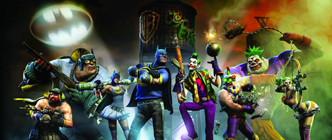 Remember those amateurs Batman shut down in The Dark Knight? What if they were organized, numerous, and crazy, and then some jokers joined the party? That seems to be the premise for
Gotham City Impostors
, the first shooter with the Batman license. The Caped Crusader may be famously against guns, but his legion of imitators have no problem pulling an Uzi or a shotgun on an enemy gang of Joker lookalikes. One wonders what the Batman himself would say to these guys? At least they're not wearing hockey pads...
Right off the bat (pun!),
Gotham City Impostors
bears a huge resemblance to Valve's
Team Fortress 2
.
Like that other stylized online shooter, the game is moderately priced at $15, but has enough optional microtransactions to empty your wallet
. While it's not as attractive and effortlessly amusing as TF 2, it's fast-paced, cartoony, and has disparate classes that give it depth and variety.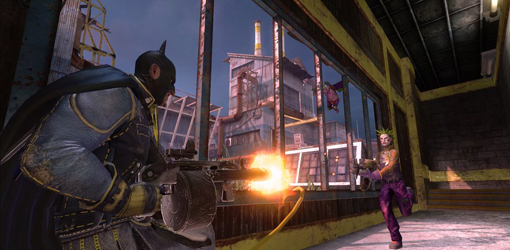 It also has
Call of Duty
elements, with sight and fire shooting mechanics and customizable classes with unlocking gear. Most of your arsenal is standard
Modern Warfare
stuff, like assault rifles, sub-machine guns, shotguns and grenades.
The rest is right out of Wiley Coyote's Acme catalogue: roller skates, dynamite, and high-flying spring shoes
.
When it comes to customizing classes, in addition to guns and ammo you'll choose perks and a body type. What really makes it really fun is all the viable combinations: you can slap roller skates on a heavy guy to compensate for his slowness, or put them on a more nimble character for a hard-to-hit speed demon.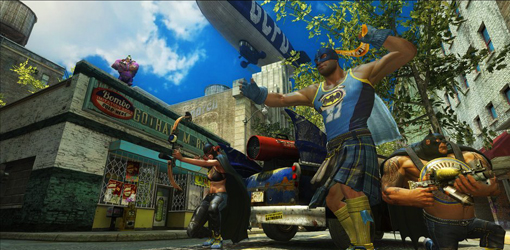 While the game's pre-made classes let you sample most of the gear, when it comes time to design your own class, you'll have to unlock everything piece by piece. In a rather cruel move that must be designed to move DLC, the game doesn't let you edit existing classes, or swap their equipment.
The game is just freaking stingy with the unlockables
. If you earn the Red Dot Sight for your assault rifle, you can't put on your sub-machine gun.
Call of Duty
may work this way, but that game unlocks stuff way faster, and never tries to get you to spend real money on equipment (just map packs and stat tracking).
You can still have a great time playing GCI with the standard classes, and if you're really smart with the unlocks you earn, you can make a fun custom class without spending anything.
Still, it's a bit like spending your perks in Skyrim, it's easy to drop a point on something that's useless to you down the road.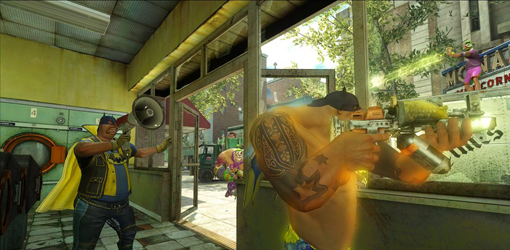 If you haven't picked up on it by now, GCI is a completely online game. There's a single player tutorial, but after that you're dropped into the fray of three game modes and five maps.
It's not a ton of content, but it feels like $15 worth to me
. I do wish the tutorial had covered more advanced things than just running, jumping, and shooting. It really should have addressed the medic class, who heals people by encouraging them with a megaphone, and has roller skates to keep up with the pack. He's a fun, versatile class, but nobody seems to play him. I'm sure it's partly because your average player wants to kill not heal, but nobody seems to know how he works; injured players don't seek him out like the Medic in TF 2. Still, people figure it out eventually, and you can really turn the tide of battle by playing as this guy.
While GCI seems to be equal parts TF 2 and CoD, this alchemy has resulted in more than a few bits of exciting and original gameplay.
Roller skates are easily my favorite item; the momentum is exhilarating, it feels like Mirror's Edge and Super Mario Bros with an assault rifle
. Changing your character's perks and equipment has a huge affect on gameplay (as it should), and with how enemies will have to deal with you.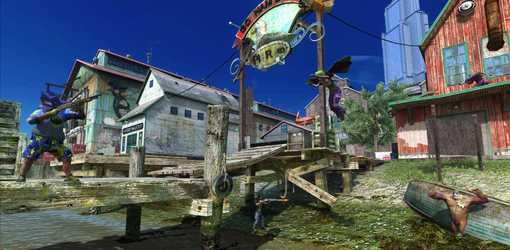 The game is also pretty funny, at least for the first few hours. Every character issues a taunt when they get a kill.
The voice acting is really amusing, the Batmen sound pompous, deluded but noble, like a homicidal version of The Tick. The clowns are the weirdest, of course, with wild bi-polar delivery, and the Harley Quinn-like girls are even more morose than your average Hot Topic shopper
. Unfortunately, these taunts are yet another thing that must be unlocked, so a lot of players are sticking with the stock lines rather than waste their perks on aesthetics. It makes for a repetitive battleground.
Also, the map design is none-too-inspired, and there are only five of them. While the game has decent art direction, it's weighed down by low quality textures. Additionally, the three game types, which are team deathmatch, king of the hill and capture the flag, all use the same levels.
The lack of maps is GCI's biggest problem, getting a ton of DLC for this game would be like having a garage full of Ferraris with only a few country roads to drive on. It just wouldn't be worth it
.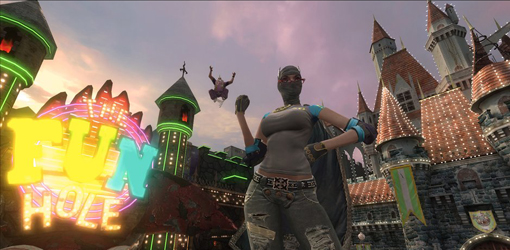 The game is also missing polish, and some of the thoughtful features that come with a shooter from big boy developers like EA and Activision. Matchmaking is slow, you can't mute players in the lobby, and you can't join a session mid-game.
It would also be nice if the game showed you what weapons other players were using, like TF 2 does. That's just basic salesmanship, and a surprising oversight from a game that seems designed to tempt players with DLC
.
The
developers have said
multiple fixes are coming in March, as well one new map, but that seems like a big wait for some basic patching. I realize updates on console games will always pale in comparison to TF 2 on Steam. GCI is the first game of its kind on XBLA and PSN, so it deserves a break.