3DS Review: True tension on a tiny screen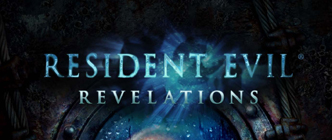 Resident Evil: Revelations
might be the best action game on the 3DS, and it's certainly the best Resident Evil game on Nintendo's handheld. After the underwhelming
Resident Evil: Mercenaries
, Capcom has delivered a fresh, tense, and well-paced RE adventure. And that's not even the best part: there's Raid mode, a challenge mode with lite RPG elements, playable in bite size chunks perfect for mobile gaming.
Revelations takes place somewhere between RE 4 & 5. It's got an ADD story structure that never stops jumping between characters and locations, flashbacks and present day. Jill Valentine is on an abandoned cruise ship adrift in the Mediterranean, Chris Redfield is spelunking through a cave full of infected wolves with his sexy, grumpy partner Jessica. Double crosses become triple crosses until the two are reunited, and chasing a conspiracy of bio-terrorists and private military corporations. It all revolves around the destruction of a solar powered island, somehow. It's out there, even for a series with a trademark on cheese.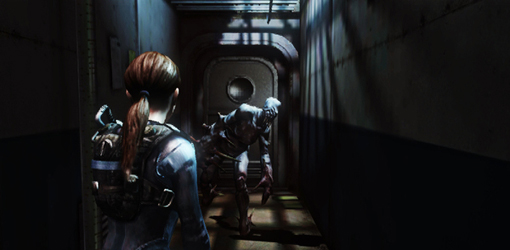 A gripping thriller it ain't, but there's some satisfaction in seeing Jill and Chris reunited, and the flashbacks add welcome foreshadowing. What really matters is how Revelations uses all the jumping around to give the gameplay some serious variety. The Jill portions are slow and tense, old school RE full of dimly lit corridors and low ammo struggles with blood sucking monsters. The other sections are more action-heavy, with more bullets, bigger guns and lots of enemies, the crowd control combat from RE 4 & 5.
It's a dynamite combination, and makes for the best pacing I've seen in an Resident Evil game since RE 4.
While there's plenty of globetrotting variety, the cast of monsters is limited. The three most common enemies in the game are grey zombies with big sucker tongues, infected wolves, and reptilian Hunters. This is one place where Revelations could have used more spice. When you're looking down the sight of gun for most of a game, some visual variety in your targets is appreciated.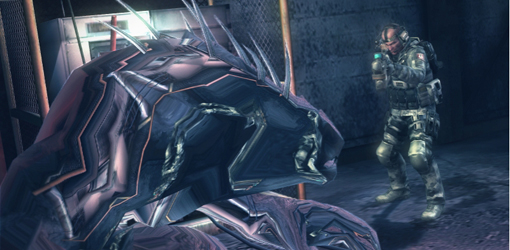 Speaking of looking down the sights, Revelations breaks RE tradition by defaulting to the first person for aiming. It avoids blasphemy by letting you switch to the over the shoulder view of the last couple games, but the first person is generally more functional, if less stylish.
In terms of overall visuals, Revelations looks sharp. It's smooth, well rendered with a consistent frame rate. As far as the third dimension goes, it's as good as the best 3DS games, but I found myself turning the 3D down or all the way off during darker sequences. Things really get muddled when you're injured and the edges of the screen get bloody. In brighter, more open spaces, the 3D is great, although I never maxed it out, not even during the game's cinematics, which were well rendered but a tad underwhelming.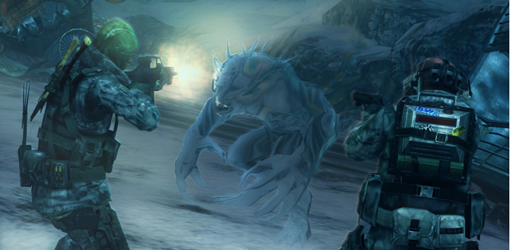 The cutscenes are disappointing, they're boring and not gory enough.
Usually in an RE game you get a few videos with nasty transformations and ghastly zombie bites. Revelations has one truly impressive cutscene, where we see the destruction of the solar island and the camera goes through the floors of a collapsing skyscraper. The rest are really just exposition, with characters talking to each other on military Skype.
Snore
. There's also a ?Last time on Resident Evil? video that plays before each chapter. These are nice bits of catch-up if you're taking big breaks in between play sessions, but when you burn through a few chapters in a sitting, they're just rehashes. Surely there was a better way to spend the cinematics budget.
Most of the real horror is in the gameplay, which is a great thing. A lot of Jill's levels are very tense, due to limited ammo and creepy shrieking things that like to chase you down dark hallways. It's surprising how much tension the game gets out of that tiny little screen. And there are almost no cheap jump scares, where something jumps out followed by a loud noise on the score.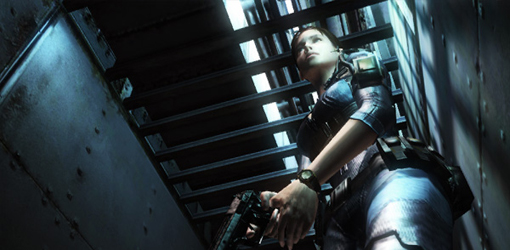 Audio is definitely one of Revelations' strengths, both the score and voice acting in Revelations are quite good.
This isn't Shakespeare, but the actors read it pretty damn well. The score is exactly what it should be, lively but spooky. The sound effects are good too, gunshots ring out differently depending on what sort of space you're in. The only complaint I can cite is that the cruise ship portions seem to have only one creak and slam sound effect that plays every time you go through a door. It gets repetitive when you go through a doorway and your partner follows you to the exact same sound.
On the subject of the 3DS itself: the best thing about Resident Evil on a handheld, besides letting you blast zombies while riding the bus, is the use of the touch screen as inventory.
RE 5's inventory was clumsy, and didn't pause the game when you opened it. On the 3DS, the touch screen is your inventory. You can cycle through weapons with the D-pad, or just touch the gun you want. Also, grenades and healing herbs are only one button away. These are all great design choices; the player still has the tension of managing his equipment in real time, but it's fair play because the inventory is simple and accessible.
For me, the best part of this game isn't the campaign, it's Raid mode. I'm a big fan of Mercenaries from RE 4 & 5, and while I miss the ticking clock of that mode, the RPG-leveling of Raid adds a huge replay incentive. You unlock new guns and parts to upgrade them, and can tweak your arsenal across all characters. It's a big game mode too, letting you replay almost every inch of the game's terrain.
On your first play through, I honestly recommend burning through the story as quick as you can just to unlock this mode.
Besides, an RE game is always better on your second time through, using New Game+ (which lets you keep upgrading the guns from your first play).