Mortal Kombat News: It's Mitt Romney vs Newt Gingrich in the battle for votes in this Daily Show-produced Mortal Kombat duel.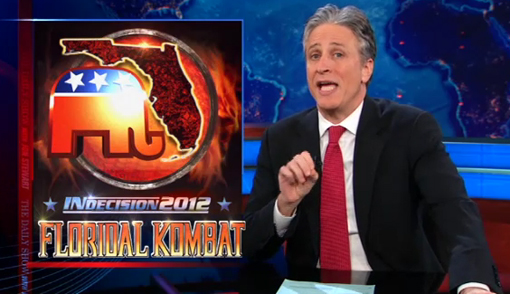 Mortal Kombat has been used to settle thousands of bets over the years, but deciding primary elections? That's new to us. The Daily Show with Jon Stewart uses the 2011 version of the game to illustrate the South Carolina and Florida primary debates, including the most recent debate on CNN last week. The analogy resulted in a ?Floridal Kombat? segment on this week's Daily Show, complete with a one candidate delivering a ?Fatality? to his chief rival.

The comedy segment depicted Former Speaker of the House Newt Gingrich and his ?lizard attacks? from the first debate as the character Reptile. Gingrich's moves-style in the South Carolina debates was defined by Stewart as ?duck fu,? while his Reptile persona executed a kick, Forceball and uppercut move after each of the candidate's devastating verbal attack.

Meanwhile, Former Governor Mitt Romney appropriately took on the role of Mortal Kombat's perfectly groomed Johnny Cage. While he was getting pummelled in South Carolina, he came back with a vengeance in last week's Jacksonville debate with a barrage of attacks that included the new X-Ray move - an it-hurts-to-watch punch to the groin. This was followed by another X-Ray move, a chop to the spinal cord when Romney criticized Gringrich's whiny defense in a post-debate interview, then everything was wrapped up with a Reptile-decapitating Fatality when Romney referred to his 42-year marriage with the same woman - what Stewart referred to as the thrice married Gringrich's most vulnerable spot.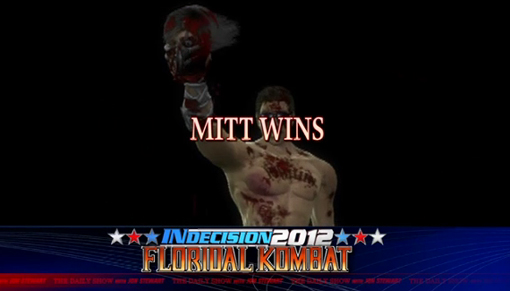 From isolating an opponent's weaknesses to attacking enemies with unfair and cheap combos, Mortal Kombat and politics do in fact have a lot in common. Congressman Ron Paul and former Senator Rick Santorum didn't get the same ?Floridal Kombat? love from the show, but maybe President Obama will get in on the Mortal Kombat fight in a future Daily Show segment when and if Mitt Romney moves up the series' infamous ?Challenge Tower.? Either that, or we'll just have to write up another Kreate A President With Mortal Kombat feature.



source: The Daily Show